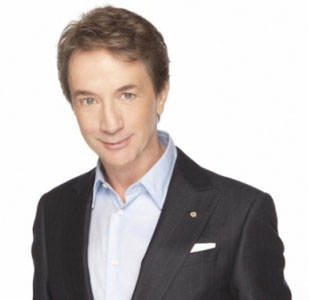 Martin Short's the type of performer who is never too far away from the spotlight, and with good reason: it's clear that the guy just loves to work.  He talks about his recent voiceover roles, guest appearances, theater work, and hosting gigs to the Denver Post and explains how he manages to do it all.
Though he's lent his distinct voice for voiceover work throughout his career, including last year's Frankenweenie and Madagascar 3, Short won't just do any animated project.  He admits, "Voice roles are always easy but, they have to be interesting."
Recently, Short has done a number of guest appearances and guest arcs on established television series.  On why he chooses to do this, he says, "It's fun to do unusual stuff that people wouldn't think of you doing, like Damages, or in the last few years I did arcs on How I Met Your Mother and Weeds." Read more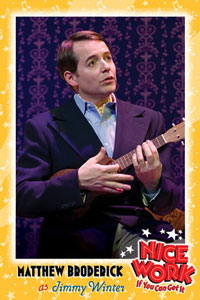 Did theatergoers learn nothing from Patti LuPone's recent freak-out onstage after an audience member got screamed at for videotaping?
Apparently not, as Matthew Broderick was yet another celebrity to abruptly stop a performance in order to ask someone to stop videotaping.  As reported by E! Online, the February 15th production of Broadway musical, Nice Work If You Can Get It, was halted when Broderick noticed someone recording.
Rather than take LuPone's approach and scream for the theatergoer to stop, 50-year-old Broderick broke character, and calmly asked the person to refrain from recording the show.
Guess it didn't take a diva fit for the person to stop.
Nice Work If You Can Get It is currently playing at The Imperial Theatre in New York.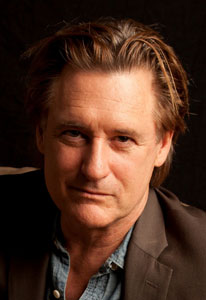 Theater directors: in case of emergency… call Bill Pullman.
Pullman is currently starring in Sharr White's The Other Place at the Samuel J. Friedman Theatre, his first role on Broadway since 2009.  However, though he has always intended to return to Broadway, he wasn't expecting it to be in this show.  That's because Pullman replaced Daniel Stern for more than a month of performances.  Though Stern was in the cast for the play's preview performances and January opening, in late January he had to leave the production for family reasons.  Mandy Greenfield, the artistic producer of the Manhattan Theatre Club, called up Pullman, who was at the time attending the Sundance Film Festival.  Pullman's first show was February 5 and he will remain with the production through its close on March 3.  Pullman had just five days to learn his lines.
In an interview with The Huffington Post, Pullman admits that despite his four-decade acting career the rush to prepare for the role is a new experience.  He says, "I've never done this before.  No process. Just product."  His preparation amounted to watching two performances featuring Stern, learning the blocking in his own apartment, and doing only a single run through the whole show with castmates Laurie Metcalf and Zoe Perry before appearing in the performance scheduled for that night.  To make the situation even more difficult, Pullman was suffering from a cold.  But after that, Pullman says (with a laugh) that we learned from the experience was "That I'm still flexible. And you can overcome all the fear." Read more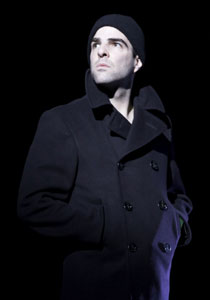 This is the first time in a while that Zachary Quinto actually has some free time in his schedule.  After starring in J.J. Abrams' Star Trek reboot and two seasons of FX's American Horror Story, the actor has chosen to appear in a production of Tennessee Williams' The Glass Menagerie at the American Repertory Theater (ART) in Cambridge.
"I wanted to do a play at the beginning of 2013, because it was the first window of availability that I had in my schedule," he said in an interview with The Huffington Post.  "So, basically my agents brought me a few different projects that I was considering and it just felt like this was the best fit for me on so many levels."
Quinto was more than ready to take on the role of Tom, but he still did some preparation for the part.  "I started by doing a lot of reading, Tom is the most autobiographical character in Tennessee Williams' body of work, so for me I did a lot of reading about Tennessee himself, his upbringing, his childhood into his adolescence and adulthood," Quinto noted.  "And then, we just got into the rehearsal process, which is a lot of discussion and a lot of reading the play out loud.  We had a week of rehearsal in New York, before we came up here to Boston, so we just sat around a table and deconstructed the play and talked about the play." Read more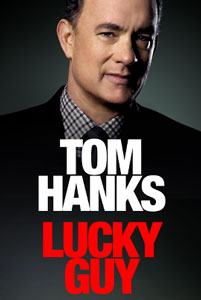 While I respect wanting to challenge oneself as an actor, I often wonder why an A-list actor like Tom Hanks chooses to take a Broadway role, as he is with his Broadway debut Lucky Guy.  After all, Hanks could command one of his usual hefty salaries for a movie role with less work (though don't let that make you think Hanks won't potentially make a mint from Lucky Guy).  But in an interview with The New York Times, Hanks reveals that his Broadway debut has been a long time coming — and so is the anxiety!
It seems likely that Hanks has something to prove to himself because he's dismissive of his own acting ability.  He says, "Look, the title is Lucky Guy. It's about somebody who is almost good enough to deserve what he achieves. And I understand that.  I still feel sometimes that I'd like to be as good as so-and-so actor.  I see some other actors' work, and I think I'll never get there. I wish I could." Read more
Ben Foster is set to replace Shia LaBeouf in Orphans the producers announced today. He will take over the role of 'Treat' and begin rehearsals immediately.
Producers Frederick Zollo and Robert Cole said, "We are delighted that Ben will join Alec Baldwin and Tom Sturridge when rehearsals commence at ORPHANS tomorrow morning. He is an extraordinarily gifted actor."
I love Foster and think he's perfect for the role . He had auditioned for the role when they were originally casting but LaBeouf got the part. This will be his Broadway debut.
Production dates remain unchanged thus far, with previews beginning March 19 and opening night on April 7 at the Schoenfeld Theatre (236 W. 45th Street).
Tickets are now on sale and can be purchased by calling Telecharge at 212-239-6200 or online by visiting www.Telecharge.com.
Shia LaBeouf, who has certainly made his mouth a familiar spot for his foot in the past, was set to make his Broadway debut opposite Alec Baldwin in Orphans, with previews set to begin March 17.  However, yesterday it was announced that LaBeouf had left the play because of "creative differences."  Naturally, inquiring minds want to know what exactly those differences were/are.
On Twitter LaBeouf has provided screenshots of private e-mails that indicate that he and Baldwin were not meshing well on stage.   In a rambling e-mail to Baldwin, playwright Lyle Kessler, actor Tom Sturridge, director Daniel Sullivan, and producers Fred Zollo and Robert Cole, LaBeouf wrote about how much of a "man" Baldwin is and then adds "Alec, Im sorry for my part of a dis-agreeable situation."
Sullivan replied, "I'm too old for disagreeable situations. you're one hell of a great actor. Alec is who he is. you are who you are. you two are incompatible. i should have known it. this one will haunt me. you tried to warn me. you said you were a different breed. i didn't get it." Read more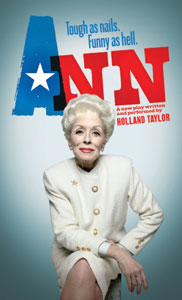 Holland Taylor is thrilled to finally have a part she can sink her teeth into.  Not that playing a mom on Two and a Half Men isn't exciting, but it's not exactly a difficult role.  With her new play, Ann, Taylor has the opportunity to portray former Texas governor, Ann Richards.
"I've always been a gun for hire," Taylor said in an interview with The New York Times.  "I've had some marvelous parts, but I'm also asked to play characters who are kind of superficial people.  Here's a chance to play somebody that would use every single dot of what I could imagine I would ever be at my very best.  It's meant the world to me."
Taylor got the idea for the play in 2006 when Richards passed away from esophageal cancer. She had only met the politician once, but was very moved when she died. "I was really genuinely and unnaturally mournful, considering I didn't know her," Taylor said.  "I thought: 'This is ridiculous.  What's the matter with you?'  After some months of this sort of mournful state, I thought: 'Why don't you do something creative?  You're an actress.  You could play her.'  One day I'm driving to work, to Two and a Half Men, and it's like boom: It's a play.  I swear to God, I pulled off the road, parked my car.  I'm not sure I even turned it off.  And for about 15 minutes I sat in a kind of aspic.  I dared not move.  The five or six organizing ideas for the play came to me in those 15 minutes." Read more
The ole 'creative differences' line, huh?
Shia LaBeouf was to make his Broadway debut opposite Alec Baldwin in Orphans, which was supposed to begin previews March 19th. But, that's not happening now.
A just released statement from the producers says that, "Due to creative differences, the producers of Orphans and Shia LaBeouf will be parting ways and he will not be continuing with the production."
I'm not the biggest fan of LaBeouf but I was still planning to see the show because I love Alec Baldwin so damn much. I would love to know what happened behind the scenes.
An announcement on the replacement for the role of "Treat" will be made shortly. Read more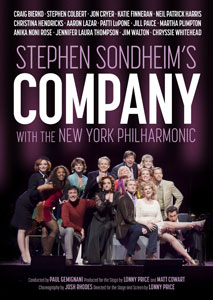 Thanks to Hulu, you now have a chance to watch the Neil Patrick Harris led Company for free. 
The show was originally performed with the New York Philharmonic back in 2011 and the producers distributed it to theaters nationwide last March. That's when I saw it and I thought it was great.
Starring Harris, Stephen Colbert, Jon Cryer, Christina Hendricks, Patti LuPone, Katie Finneran, Martha Plimpton, Craig Bierko and Anika Noni Rose, Company, by the brilliant Stephen Sondheim, follows five married, once married, or soon to be married couples and their mutual friend, Robert, a 35 year old bachelor who has been unable to connect in a long-term relationship.
Check it out below! Read more