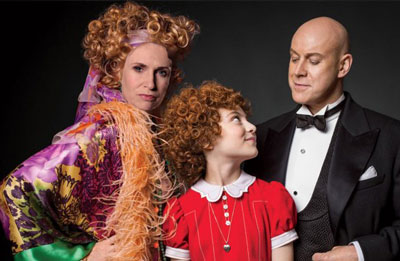 The producers of Broadway's Annie are enjoying a solid boost from Jane Lynch's limited engagement (and Broadway debut!) as Miss Hannigan. 
During the week Lynch's casting was announced on February 20, Annie was selling at a very respectible 76% capacity according to The Broadway League.  However, attendance dipped to as low as 61% capacity — just over 8000 total per week — in the weeks prior to her arrival.  With Lynch attendance has risen to 79% (her first partial week of seven performances) and 88% (her first full week of eight performances), with the total weekly audience topping 10,000 both weeks.  In fact, last week's attendance nearly topped 12,000 for the first time since the weeks before and after Easter (when thousands of children were on break from school).
The dip in attendance prior to Lynch's first performance isn't surprising if you take in account that in addition to the usual shrinking week-to-week attendance of Broadway shows many people who might have seen the show otherwise held off after the casting announcement to see the show when the Glee star was playing Miss Hannigan. 
Curiously, despite Lynch's presence selling more tickets the average paid admission prices are inching downward (the average paid admission was $91.91 during the week her casting was announced, but during Lynch's first full week the average paid admission was $81.48).  This suggests that while more people are seeing the show with Lynch, a fair amount of them are buying the cheaper seats.  The top ticket price remains $250, which means producers didn't decide to jack up premium seating prices because of Lynch… well, not yet, anyway.
But don't think the producers aren't getting as much as they can out of Lynch — an album of the revival's cast, set to be released on June 9, will feature three bonus tracks featuring Lynch singing Miss Hannigan's songs in addition to the "regular" versions featuring the actress she replaced, Katie Finneran.
Lynch is only with the production through July 14.  A replacement has yet to be named.