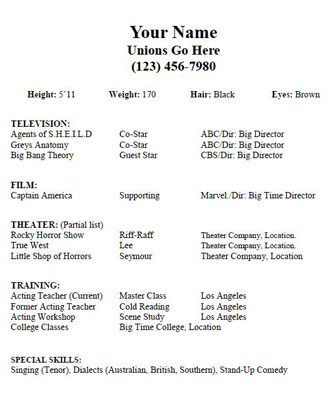 Free Acting Resume Templates
The easiest way to get your acting resume together is to grab a template and see for yourself what you need to do.
In our post, How To Make An Acting Resume, we showed you the do's and don'ts of a professional acting resume. You should definitely check it out if you haven't had the chance. It's full of tons of good information and you should absolutely take a look before you make your first resume.
We made two acting resume samples that you can download; one for someone who doesn't have an agent and one who does. Odds are if you already have an agent, you won't need it but you'd be surprised how many requests we get for them.
When you're first starting out, you won't have a lot of things to place on your resume and that's totally fine. No one expects you to have a lot of work yet. Just be honest with your acting experience – and, yes, even your acting skills section! – and put what you've done on it and you'll be fine. You most likely will only have theater credits so obviously remove the TV and Film sections of the resume.
Take a Look at These Actor Resume Samples Below.
Download Them and Get To Work!

More Acting Resources