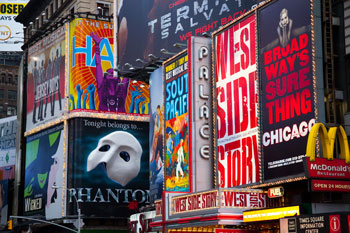 As always, there is both good news and bad news in the Broadway League's annual report of Broadway attendance and grosses.
Broadway attendance totaled 11.3 million tickets sold in the May 2012-May 2013 season, which is a drop 6% from last year's May 2011-May 2012 season, which itself was a 2% drop from the previous year.  To be fair, a major factor for the lower ticket sales this past season was that Hurricane Sandy wiped out a week's worth of performances, and certainly also hurt the sales for the following weeks because of various transportation issues in the aftermath.
Another reason for the drop is the lack of successful productions.  The revival of Annie is the only new musical from the fall to still be running, with a number from this season, like Hands on a Hardbody and the revival of Jekyll & Hyde, closing in a matter of weeks.  On top of that, several musicals which are currently doing well at the box office, like Matilda, Motown and Kinky Boots, did not debut until well into 2013 and their full impact on the box office won't be seen until next year's figures.
However, producers aren't exactly crying because revenue grosses were $1.1 billion.  That's mainly because the average ticket price was up 9% from the previous year, with an average ticket costing $101.  
So as with the last few years, audiences seem to be as a whole seeing fewer and fewer Broadway shows but are willing to pay higher prices for the ones that they do see.  Will we ever see a point when tickets cost just too much to completely price out Broadway regulars?