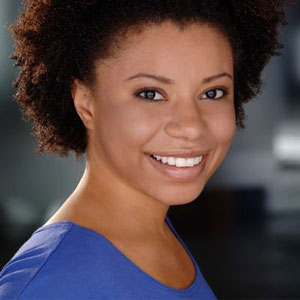 It's got to be good being Shalita Grant right now. In March, she made her Broadway debut in Christopher Durang's Vanya and Sonia and Masha and Spike. The show opened to great reviews and was nominated for six Tony Nominations including Best Play, Best Performance by an Actor in a Leading Role in a Play (David Hyde Pierce) and Best Performance by an Actress in a Featured Role in a Play for… Shalita Grant.
She plays Cassandra in the show, which also stars Sigourney Weaver and Kristine Nielsen, and she told me that she based her character on her great-grandmother, "who's pretty bipolar and just out there, like so out there." Audiences love her and everyone I've talked to who's seen the show says she's fantastic.
Shalita's from my home state of Maryland and went to the Performing Arts High school in Baltimore. From there, she auditioned for and got into Julliard, met Christopher Durang, who is the co-chair of the Playwriting Program there. He wrote a short play that she starred in… and that short play morphed into Vanya and Sonia. Great story, right? She's got an even better story about turning down a chance to be in the ensemble of The Merchant of Venice that starred Al Pacino. She's got so much confidence in herself that I found it hard not to love everything about her.
I talked to Shalita about what it's like to create a role on Broadway, getting nominated for a Tony, her rehearsal process, Vanya and Sonia and we get into the whole Merchant of Venice story. It's great, she's great and you're going to love this interview.
For the full interview, click the audio link above or download it from iTunes  Vanya and Sonia is your Broadway debut and you get a Tony nomination! You've got to be on like cloud nine right now.
Shalita Grant: Oh my god I've been on Broadway two months and I'm twenty four and I was the last person to think that this was going to happen, so yeah I'm really excited.
So how did you find out you were nominated?
Shalita Grant: So the night before I went to Actors Fund gala to honor HBO and Robert De Niro, and I asked my publicist, "What do you think?" And she was just like hemming and hawing and I was just like, you know what it's not going to happen. She's just protecting my feelings. So I thought I'm not getting up that early to lose, so I'm going out. I'm going out and having a good time. So she texted me when we parted, she was like, "If it's a personal nomination then I'll call you but if it's for the show then I'll email you." And in my head, I was so set on not getting a nomination that I was just like, "she's not going to email me."
So, I went out and I partied until like 3:30 or 4 o'clock in the morning, and I get a phone call like 8 something and it's Lisa and I'm like, "Why is this girl calling me? It's too damn early. She told me that she'd email me, like, why is she calling me?" I pick up the phone and she's like losing her mind, and I'm like, "What?" And she's like, "Are you asleep?" And I'm like, "yeah." She's just like, Wake up!  You're a Tony nominee!" So that's how I found out.
You probably didn't need any coffee that morning.
Shalite Grant: You know what, that was the fastest I have ever woken up in my life. And the first time that I woke up with like, expletives.  Like I was jumping out of the bed saying all kinds of F's and S's, and you know, trying to get my bearings because I had to talk to people about how I felt immediately upon hearing the news.  So it's crazy.
Man, that's so awesome I am so happy for you.
Shalita Grant: Thanks man, it's like, this is the best year of my life.  You know what I'm saying? It's one of those things were I graduated and I kind of hoped, like all theatre students, that when you have seasoned actors that come in and talk to you about their experiences, you won't experience the rejection that they talk about, and you naively say well that was you that's not going to be me, I'm going to have a easier time. And then, I graduated and it was not easy. It was not easy at all. Like, I had one audition were I just walked in and the producer put his head down throughout my entire audition.
It's been a road and I've worked fairly consistently, but this is the first time that I've been a part of a hit and it's great to be recognized. Especially because I had given up on any hope of that happening for me, you know what I'm saying? So it's great.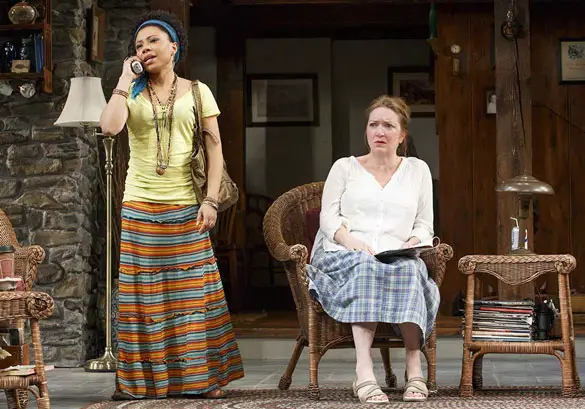 You went to a performing arts high school in Baltimore?
Shalita Grant: Yeah, I went to Baltimore School for the Arts, yeah off of Cathedral Street. I went there for two and a half years. I had auditioned there, it was way past the audition time and I was too old for the program. But I moved to Baltimore from Virginia and when I was in Virginia I was going to high school there and I wasn't like, a good teenager. I had turned out to be pretty rotten. I started like skipping school and stuff. I wasn't being challenged and so my mom was like you should probably move to Baltimore with your dad's family. I got to Baltimore and I was like, whoa, you guys are serious. You're serious about your criminal activities, like no one's joking around here. You know, I'm just acting out. This isn't really how I am. I'm just sad, so let me get my stuff together because I'm not really a bad ass.
So I found out about the art school and we sort of banged down the door and begged for an audition. Donald Hicken, who was the head of the acting program at the time, he was gracious and he said, "Yeah, I'll see you" and I auditioned.  I took like six monologues for him and I got in that day and I haven't really looked back.
It's one of those things, it's sort of indicative of my journey so far. I sort of happened into these things that are amazing and I have no idea. That is something that I fought for, but getting into Juilliard… when I was at the high school, I had a teacher who was like, "You should audition at Juilliard." And I was like, "What's that?" He was like, "It's a good program." So I auditioned and it was my first college audition. I just thought this is just practice for the other schools that I want to get into and I got in and I got a scholarship and I thought well I guess I'll go here. When I got there I was like, whoa this is crazy, this is a big deal and I'm glad to be here.
I interviewed Carrie Preston who also went to Juilliard and she called it kind of like her acting boot camp.
Shalita Grant: Well when I got there it was Tim Houghton's first year, and when I got there they had eliminated the cut program. So that sense of competition and that rigorous sort of vigor and pain, it was more of a personal thing. It wasn't like this scared for your life, my ass is on the line sort of thing. I enjoyed my time there, there were a couple of dark periods that I went through in my training, like just trying to get passed the things that were in my way of being the best that I could be.
There was one period in my second year when I was like, "I'm going to quit and I'm going to go and be in the FBI." So I went to the computer lab and looked up the qualifications to be an FBI agent because I was like, "This is too hard." I think the FBI would be easier! Isn't that crazy?
So it's hard. It's difficult. The old Juilliard drama division is gone but the hard work and the pain that you go through as an artist to try to get past your own junk and understand what it is that we are up to, that's still very much part of the program.
What's it like to create a role on Broadway? Not a lot of actors get to do that.
Shalita Grant: I am so charmed, you know like, this is just awesome. I met Chris Durang when I was at Juilliard, and I found out about him when I was a high school student and I was reading his stuff and I was just laughing my ass off. Like, "Who is this dude? He is so crazy, I love it." And then when I got to Juilliard they were like oh that's Chris Durang over there, and I was like, "What!?! What the hell is he doing here?" And it turns out that he's like the head of the play write program at Juilliard. So we became pretty friendly and he enjoyed my work which was very flattering and like also mind boggling. And he called me and asked me to do a reading of this play when it was a one act and of course I said yeah.
When I got there we did one one-act that was like classic Chris Durang and then we did this one and I was like well what do you want me to do Chris because I don't really know what this is, and he was just like, "Uh figure it out." So I was like ok, we got like an hour before we do this in front of actual people, so I have to get it together.
It was an hour?
Shalita Grant: Yeah, when you do readings of plays you show up and you usually have like an hour or an hour and a half for rehearsal and then you do it front of an audience. So it was in the rehearsal when we started on this one act and I was like, "Ok, well what's this?"And he was like, "I don't know." I'm like, "What do you mean you don't know?" And he's just like "I don't know let's figure it out." I was like alright snap decision. I thought of my great grandmother in Virginia, who's pretty bipolar and just out there, like so out there. And I just thought, "Ok, I know how to do that. That's real for me so let me just try this." And he loved it.
I didn't think about it when we were doing it, like again it was just like I was given a task and I just kind of did it and I wasn't thinking, "Oh, I'm originating this thing." I didn't even think about that, you know? I was just like, "I don't want him to hate me." So then, he writes the second act with me in mind and I've been with this thing, it's been a long journey. I'm incredibly fortunate to be so young and have this opportunity. I still can't believe it, I still can't.
When you're in rehearsal and your first working on your part are you the kind of person who is constantly making notes in your script or making like a character notebook? What's your process like?
Shalita Grant: My process is different for every play. Sometimes I am looking for inspiration… I'm always looking for inspiration from real life, and then sometimes I don't know these people so I have to actively seek out these people in the world. In art or in pop culture and try to understand what it is I'm doing and why I'm doing it.
This play was so personal because I kind of knew it and working with Chris along the way it was great. But the thing that's pretty common for me is that I never write notes in my notebook. I write down the notes from the director like what he or she wants me to do, but as far as character journals and things like that I don't do that.
And I'm also not an actress that sits down and memorizes my script. It's just one of those things that I just never really needed to do. I memorize on my feet. So we go through the scene and we block it and by the time we go through it the second time I've memorized the scene. It's hard for me to do things and it not be connected to another person, it's very difficult for me to sit down in a room by myself and memorize lines, I can't do that. As soon as I get up, I forget. So if it's motivated, if the movement is motivated and the lines are motivated then it's very easy for me to memorize it. And then from there certain phrases, certain moments or whatever, then it's easy for me to deduce where my problems will be in the scene because I can't memorize it. So something that's difficult for me to memorize, I'm like, "Oh, that's not connected, I don't understand that yet." So, it's easier for me to kind of figure out where I'm not really there. That's sort of my process, if I have one, that's just sort of what I do.
I'm also the actor who's like, in my dressing room eating during the play. It's easy to just get on stage and look at David Hyde Pierce and say my lines. When you're working with actors that are of the caliber that I'm working with it just makes my job so much simpler.
I read something about you and it shows how confident you are in yourself and your abilities, but you turned down an ensemble role in The Merchant of Venice with Al Pacino on Broadway?
Shalita Grant:  It's so funny you bring this up, Chris said the same thing to me today.  We were talking today and he was just saying…, "Wow I didn't know that, I didn't know that. You were right. You were right to do it the way that you did it." It's so funny that you say that today.
Yeah, as many time as people have said 'no' to me, and I am more than sure as long as I'm alive people will continue to say 'no' to me, but I still know what I'm worth. It was one of those things where it was like a first job, a first opportunity, and I was just like, "No, I'm willing to wait for something more because that's not how I want to move forward in my career. That's not a move that I want to make." It took like two months until the next job and I went seven months without a job.
During that period I was doing readings and stuff. It was pretty scary, like you know "Wow, am I that actress? Is that where we're at?" Then from there I just booked one thing after another. So it was sort of my season to reevaluate, because I was fresh out of school and I'm dealing with all these 'no's' and I'm trying to figure out how to stay true to myself and still love myself even though it feels like other people don't, and not allowing that to define you.
I just think that is the greatest story. I mean the confidence that you have in yourself, it's amazing to me.
Shalita Grant: Yeah, I mean don't get me wrong I'm not a cocky person, but I was just like, "I don't want to move furniture, I don't want to do that. I want to do something else. I want to do something more."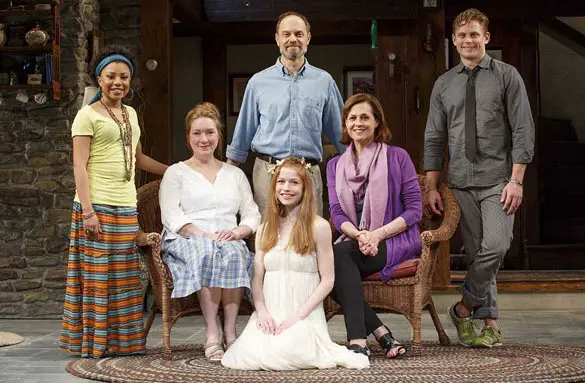 Do you guys on stage get as irritated as I do when some jackass leaves his phone on?
Shalita Grant: Oh it's so funny, because we, I can't actually speak for everyone I can speak for myself, when I hear it I just giggle to myself, because the audience takes care of any issues, any irritation we might have.
There was one performance, this older woman had her phone on and either refused to or didn't know how to turn it off and it went off three times. And I swear and I kind of felt like maybe we sort of had to jump in because the audience was ready to kill her. I mean it was bad. It was like the freaking Greek coliseum, like the lions were ready to attack her, like it was bad. So I don't get irritated because the audience does it for me, so I'm just like, "Oh they'll take care of them." They'll shame them into turning it off. I can just give a slight pause and keep moving. So ya'll are taking care of it.
What's your advice to actors?
Shalita Grant: You know, it's funny to have someone even ask me that. It's so weird. It's like when people ask me, "Who are you wearing to the Tony's?" It's just like really, I'm there. It's so goofy!
I would just say be prepared. Just be prepared, I'm probably the most paranoid person I know. I'm always afraid, like when my producers pull me aside, I'm like, "Am I fired?" Like tell me now. I'm always like, my ass is on the line, all the time.
So, but I even though I have that part of me I try to keep it in check in that I don't allow it to stop me from moving forward. I acknowledge that I'm freaked out and insecure and scared, and I'm in some way putting my personal view of myself on the line. But it's more important to me to do this work then it is to save face or to be liked. You're safer when you risk, and I think what makes it so safe when you're doing something risky, like you know, creating a character on the fly or making a Broadway day view it's being prepared, it's being prepared. That's all that I think you gotta do. Show up on time, be prepared. That's it.
Vanya and Sonia and Masha and Spike is currently playing at the John Golden Theatre. For tickets and more information, click here.