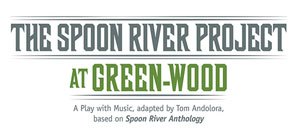 There was a time where the most "outdoor" theater got in New York City was Shakespeare in the Park.  But today?  How about in a graveyard?
After a successful 2011 engagement, The Spoon River Project is returning this summer to one of Brooklyn's most historic cemeteries, Green-Wood Cemetery.  As in 2011, the play will be performed deep within the cemetary, with the performance lit by lanterns and torches (and theatergoers transported by trolley).  There will even be midnight performances every Saturday.  With each character in the play speaking from beyond the grave, what could be a better setting?
Based on the poetry collection Spoon River Anthology by Edgar Lee Masters, the Spoon River Project was adapted by playwright and director Tom Andolora.  It features period music with choreography by Broadway veteran Jeffry Denman.  The production is presented by Green-Wood Historic Fund and Variations Theatre Group.  The 2011 production received extensive coverage in The New York Times, The Huffington Post, Backstage, and elsewhere.
The Spoon River Project will run for 14 performances from June 13 through 30.  For more information on this unique production and tickets, click here!