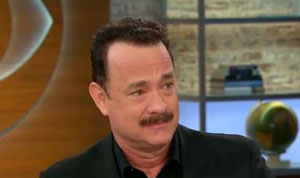 With a Tony Nomination and almost certain Tony Award for Lucky Guy around the corner, Tom Hanks is everywhere right now. Not that that's a bad thing because I love the guy and would (and do) watch most all of his appearances.
In this interview, the hosts banter about his habit of photographing lost gloves and putting them up on twitter and being a grandfather.
He also spills coffee on the desk and blames the "bad CBS coffee cups" while being asked about the challenges of doing the show. "I was worried, quite frankly, about the physiology for it," he said. "I didn't know if I had the tools or if I was in shape."
Check it out below!