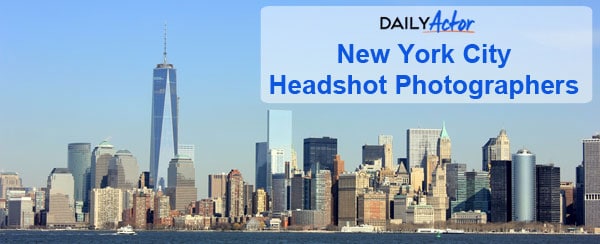 Looking For the Great Actor Headshots in NYC?
Headshot photographers in New York City are like actors – there's a lot of them. Some are great, some are middle of the road and some are absolutely terrible.
But, we here at Daily Actor are here to help! We've compiled a list of some of the best professional headshot photographers in NYC and when we could, feature a brief statement about their work (taken directly from their website).
Here are some quick tips to remember when choosing a photographer:
Find someone you're comfortable with. If you aren't able to meet the photographer in person, at the very least, have some kind of phone conversation with them. Don't meet or talk with them for the first time the day of your shoot. To get the best headshot, you've absolutely got be comfortable with your photographer.
Look carefully at their website and portfolio. You can get a lot from the look and feel of someone's website. If the website looks thrown together and not well-made, that's a tell. Also, if you see actor headshots in their portfolio that you don't like, that's also a tell. FYI, we've made sure not to include any photographers like that in our list. We just want to help you out in case you find someone not listed here.
Pricing. Always look at the pricing options. "It costs how much for 2 prints and re-touching??" I've had friends that have had that happen to. Don't be that friend!
And don't forget to always ask questions like:
How many changes of clothes do I bring?
How much for hair and make-up?  And guys, if you're asked if you want hair and make-up, the answer is always 'Yes.' Trust me on this.
How many shots will they take? And how many shots do I get to process?
How much is retouching?
With that said, check out our list below!
The Best New York Headshot Photographers
(Updated 8/17/21)
"I know what the industry is looking for in a professional headshot, and can help you identify
how you'd like to present yourself to agents, casting directors, and other industry professionals."
"When we're shooting, my goal is to make you as unaware of my camera as possible.
I want our environment to feel like you're hanging out with a friend and having fun."
"To me, my job isn't over at the end of a shoot. I take on a full commitment to
each of my clients from the moment they book me."
"We're a small team that works every day to direct and capture great expressions
and help our clients feel at-ease throughout their shoot."
"My goal is to capture your image in a way that will leave the most impactful
and lasting impression possible from the very first glance."
"We want each photo to intrigue the viewer and evoke something of both your own character
and of the characters you're interested in portraying, to feel personal."
"Jeremy is known throughout the industry as a photographer who captures honest
and real moments that represent your unique personality."
"Truly, the best headshots I have ever taken have been the result of spontaneity.
My advice: Approach the shoot with an open mind and trust the process!
Think of this as a rehearsal where you have the opportunity to explore and play in the space."
"I want to capture a spontaneous moment in your life, when there's a real spark in your eyes
and a genuine expression on your face. Your greatest asset as a performer is your individuality."
"Your headshots will look like the best you, capture your personality,
and most importantly catch the eyes of casting directors."
Laura Volpacchio Photography
"I emphasize authenticity in all of my work.
That means you have only one job on shoot day – be yourself."
"I keep the vibe loose with an emphasis on capturing honest,
candid moments almost always with a sense of humor."
"I want to capture the real you in each image. It's your time to show us all what it is that makes
you who you are and allows you to stand out from the rest. I'll help you bring all of your varied
qualities to the surface and together we'll create some great images to take that next step."
"Her headshot photography encompasses the most desirable combination
of elements to produce an honest, quality representation of every subject."
"Armed with our belief that headshots should never feel static, we keep our
headshot sessions cheerful and informal in order to capture your true expression."
"When I shoot, my desire is to see something in you that you're feeling, both intentional
and unintentional, and channel that to the camera in a very impactful, but natural way."
"I strive to consistently deliver the highest quality most representative headshot everytime.
There is a very distinct difference between a good headshot and a great headshot."
"Our approach to headshots is simple: to make you look and feel your best.
If you are feeling great and having fun, it's going to show through in every photo!"
"With more than 8 years of experience, he's obsessed with exploring new ways of connecting
with people and creating amazing headshots and portraits. Pictures that are not only
absurdly helpful in getting people noticed, but down right honest and authentic."
"In these image-driven times a great professional headshot/portrait becomes an integral part of your personal and professional online identity. I've always admired actors and other creative artists and it's genuinely pleasurable to offer a relaxing and collaborative environment where together we explore who you are and what you wish to convey to the world. And, there's a pug here!"
"My process is intimate, fun, and exposing. Ultimately, it's an opportunity to explore self in
front of the camera. The only requirement is that you show up with a willingness to be seen."
"Xanthe has a great passion and talent for making the most self-conscious subjects
feel comfortable and beautiful. Her work reflects a personal desire to combine
the best aesthetic, confidence, energy, and truth of each subject."
More Acting Resources