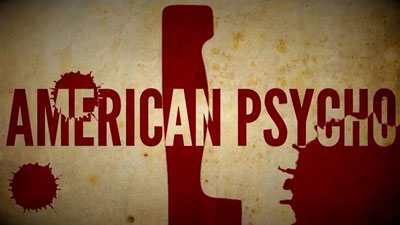 With all the recent talk about Kickstarter surrounding Zach Braff's decision to use it to raise money for his next film (and Melissa Joan Hart's failed attempt to do the same), it's good to know that there's a campaign going to support a serial killer.
Okay, let me rephrase that — it's a campaign to support Patrick Bateman, the titular psycho in American Psycho, as the classic novel is being adapted as a musical.
Duncan Sheik — who is best known for writing the music for Spring Awakening — already has a deal in place to stage the premiere of the musical at The Almeida Theatre in London, but he and the other producers are hoping to raise $150,000 on Kickstarter to add more to the production.  He tells The New York Post, "This allows us to up the ante in terms of what the production is going to entail.  I think it's about being able to do things in the space that make for a really cool immersive theatrical experience."
The musical features 13 original songs written by Sheik, including "You Are What You Wear," which is featured on the Kickstarter campaign page.  The music is reminiscent of the 1980s music that Bateman memorably reviews in the novel, which was written by Bret Easton Ellis and was made into a film starring Christian Bale in 2000.  In fact, Sheik hopes that the Kickstarter cash infusion (if successful) will allow him to include songs by Tears for Fears, Phil Collins, Huey Lewis and the News, and New Order in the musical.
Sheik is hopeful that the musical will eventually make it to Broadway, saying, "Of course, I think it should come to New York, but I also know we have to get it up onstage and have it be this amazingly mind-bending experience for the audience for it to deserve to make that journey across the Atlantic."
If you're interested in contributing, check out the Kickstarter campaign page here.