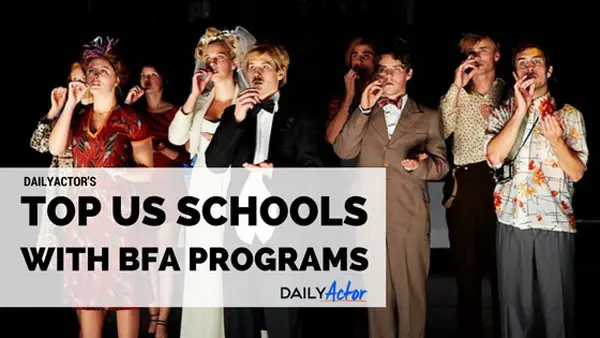 There are so many schools around the country that offer BFA Acting Programs that it's hard to figure out which on is the best. Every program has been developed to give you the best training ground possible so really, it's finding the one that is the right fit for you.
When looking for an acting school, here are a few things you should consider:

Training. Every school listed below will give you a fine education with hands-on experience. You'll leave with the necessary tools for you to be successful. But, you should, at the very least, talk to people who've gone through that schools program. You may find out something that'll tip a particular school in or out of favor.
Location. Do you want a school in New York, LA or somewhere in between? Again, it's about finding the right school for you. Don't think that choosing a school North Carolina will hinder your career because it won't.
Connections. Every program, you'll meet people who you'll become life-long friends with. Whether their students or faculty, these connections will become invaluable when you are starting out. It's always nice to go through things with people who are your peers.
Getting a Bachelor of Fine Arts degree won't guarantee success as a working actor but it will definitely give you a leg up as you start your career.
The Best Acting Colleges and Schools with BFA Programs (2018)
Boston, MA
"The program curriculum stresses the development of imagination, intellect, physical and vocal skills, technique, and professional behavior. This allows students to create a wide range of roles in performances of varying styles."
Valencia, CA
"The training we provide is designed to educate the whole person and to prepare fully equipped theater artists to enter and transform the field."
Pittsburgh, PA
"Graduates have made indelible contributions to the national and international arts communities as practicing artists, crafts persons, educators, theorists, entrepreneurs, administrators and arts innovators."
New York, NY
"It is defined by its location in New York City, and by the extensive network of Columbia alumni and faculty who run prestigious Broadway, Off-Broadway and regional theatres; direct and perform in Tony- and other award-winning productions; and teach, mentor and engage with students beyond the classroom."
Chicago, IL
"The Theatre School's four-year Acting program focuses on expanding your range of knowledge and expression of performance — providing you with skills and techniques to improve acting, movement, voice and speech abilities."
Washington, DC
"The Theater & Performance Studies Program provides unique focus on adapting, devising and developing new work, interdisciplinary research-to-performance projects such as senior theses, cross-cultural performance studies, and innovative approaches to design and multi-media, as well as playwriting, directing, dramaturgy, ensemble, and solo performance."
New York, NY
"Daily intensive class work in acting, movement, voice, and additional aspects of the craft, is integrated into learning and interpreting a wide range of dramatic repertoire."
Northwestern University
Chicago, IL
"Our belief is that the best theatre artists—designers, actors, playwrights, dancers and directors—combine highly developed performance capabilities with a broad knowledge of the theatre literature and theory."
New York, NY
"Tisch Drama is dedicated to giving you the artistic and intellectual know-how for a successful life in the performing arts."
San Diego, CA
"The professional actor training program is designed to take advantage of training and performance opportunities made available by The Old Globe. Students' performance work in the Globe's professional productions is much more than an added attraction, it is the centerpiece of the training."
New York, NY
"The BFA in Acting combines fundamental and innovative industry-focused training to prepare students for the professional world of theater and film/media acting."
New Brunswick, NJ
"The training consists of intensive studio classes, a rigorous core curriculum and fully-supported productions. This combination of activities is designed to give our students a well-rounded and comprehensive understanding of their craft."
New Brunswick, NJ
"Undergraduates put classroom theory into practice through productions and various special opportunities, including Wednesday Lab, study abroad, and numerous community engagement initiatives."
Los Angeles, CA
"The Bachelor of Arts degree in Theater provides a liberal arts education and pre-professional training in a comprehensive program that uniquely combines the study of the arts, humanities and sciences with exploration of the principal areas of theater practice"
San Diego, CA
"The innate talent of the student is nurtured, coaxed and challenged with individual attention from an extraordinary team of professionals and specialists in actor training."
Winston-Salem, NC
"For 50 years, the School of Drama at UNCSA has produced some of the most captivating, versatile and successful actors in theatre, film and television."
Los Angeles, CA
"Through programs of the highest caliber, as well as initiatives that provide access to professional experience, students are prepared for leadership in every facet of dramatic arts."
New Haven, CT
"Students are admitted based on talent and potential for a career in the professional theatre; graduates of the School are known for their accomplishments on the legitimate stage, in film and television, and a variety of other creative fields."
More Acting Resources