Zachary Levi (Chuck, Thor: The Dark World), will make his Broadway debut in First Date, a new romantic musical comedy.
Smash's Krysta Rodriguez (who also starred in The Addams Family on Broadway – I knew I recognized her from somewhere) will also star.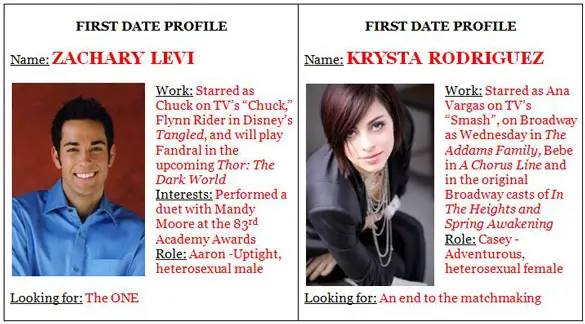 The show begins performances Tuesday, July 9th and opens Thursday, August 8th at Broadway's Longacre Theatre (220 West 48th Street). 
Directed by Bill Berry (Producing Director of The 5th Avenue Theatre), the show will also feature Vicki Noon (Wicked, Mamma Mia!), Sara Chase ("Arrested Development," The Toxic Avenger), Kristoffer Cusick (Wicked, Rent), Blake Hammond (Sister Act, Billy Elliot) and Kate Loprest ("Boardwalk Empire," Hairspray). Additional casting to be announced shortly.
The book is by Austin Winsberg ("Gossip Girl"), music and lyrics by Alan Zachary and Michael Weiner (Secondhand Lions, Twice Charmed) and musical staging by Josh Rhodes (Rodgers & Hammerstein's Cinderella).
Synopsis: When tightly wound Aaron (Zachary Levi) is set up with serial-dater Casey (Krysta Rodriguez) a quick drink at a busy New York restaurant turns into a hilarious, high-stakes dinner.  As the date unfolds in real time, the couple quickly finds they are not alone on this date as Casey and Aaron's inner critics take on a life of their own when other restaurant patrons and the wait staff get into the act.  Dinner is served with sides of Google background checks, fake emergency phone calls, supportive best friends, manipulative exes and protective parents, who sing and dance them through ice-breakers, appetizers and potential conversational land mines. 
Tickets for FIRST DATE are on sale now.  Tickets range from $35 to $137, and can be purchased at www.Telecharge.com (212.239.6200).  The performance schedule is as follows: Tuesday-Saturday at 8pm, Saturday at 2pm and Sunday at 3pm and 7pm.  Beginning August 5, 2013 the performance schedule is as follows: Tuesday at 7pm, Wednesday-Saturday at 8pm, Saturday at 2pm and Sunday at 3pm and 7pm.