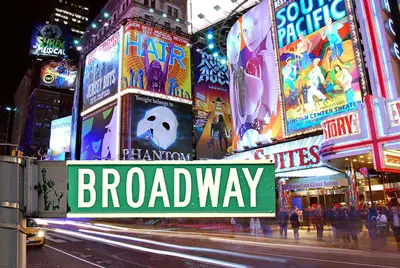 In the past few years it seems like a Hollywood star opens a play on Broadway on almost a monthly basis.  While this is a huge boost for Broadway and New York City – think of how many people traveled to Manhattan just to see Tom Hanks on stage in the last few weeks – the trend of "star casting" is controversial among Broadway regulars, many of whom see it as outsider stars jacking up ticket prices and "taking away" roles from legitimate Broadway actors for large paychecks.
In fact, because of stars' salaries – actors like Tom Hanks and Al Pacino are paid upwards of $100,000 per week on Broadway – a detractor might question if spending all that money on a star is even worth it for producers when profit margins in the Broadway business are often razor thin.
Though star casting has a long history in New York (for example, Jackie Gleason did lengthy Broadway runs while he was a television superstar), I looked at the box office data from The Broadway League of select productions from the last five seasons (May 2008-May 2013) to see how effective star casting has been in recent years.  I looked at three primary figures: the total number of performances (including previews), the percentage of seats filled (capacity), and the average purchased ticket price.  The last figure is important because a star could be playing to 80% full houses and the production could still fail because the 20% unsold are the $200+ premium seats that need to sell to cover the star's big salary.
Lastly, I only looked at plays or musicals that had one or two clear "stars."  For example, while 2012's Glengarry Glen Ross featured familiar faces Bobby Cannavale, John C. McGinley, and Jeremy Shamos, it was Al Pacino's name on the marquee and he was paid 80% of the production's total cast salary – not including perks and bonuses.   Productions that had three or more big names – for example, 2008's Cat on a Hot Tin Roof, 2009's God of Carnage, 2011's That Championship Season, 2012's The Best Man, and 2012's Grace – were not counted because they were clearly sold as ensemble casts.  I also didn't include any productions in which the big star is generally a Broadway regular (Matthew Broderick and Nathan Lane, I'm looking at you).
After looking at the data, it's obvious that a fair amount of "star" productions are wildly successful, which is why they continue to be so popular.  Some of the most successful actually sell beyond seating capacity – standing room only – for their entire runs.
Here are the figures for some of the most successful productions in recent years:
Performances

Avg.
Weekly
Attendance

Avg.
Paid
Ticket

Lucky Guy (2013) – Tom Hanks

105*

101%*

$140.93*

A Steady Rain (2009) – Daniel Craig & Hugh Jackman

101

101%

$139.06

Merchant of Venice (2012) – Al Pacino

99

101%

$132.86

Fences (2010) – Denzel Washington & Viola Davis

101

101%

$116.76

I'll Eat You Last (2013) – Bette Midler

59*

100%*

$134.69*

Hugh Jackman, Back on Broadway (2011)

79

99%

$156.07

Death of a Salesman (2012) – Philip S. Hoffman

108

99%

$116.07

Harvey (2012) – Jim Parsons

94

99%

$72.25

You're Welcome America (2009) – Will Ferrell

64

98%

$100.74

Good People (2011) – Frances McDormand

128

98%

$72.85

Glengarry Glen Ross (2012) – Al Pacino

93

97%

$148.83

A View From the Bridge (2010) – Scarlett Johansson

111

97%

$97.15

A Little Night Music (2009-2010)
– Catherine Zeta-Jones

237

94%

$117.68

How to Succeed in Business Without Really Trying
(2011)
– Daniel Radcliffe

335

94%

$96.58

Macbeth (2008) – Patrick Stewart

63

88%

$80.35

Hamlet (2009) – Jude Law

97

87%

$100.76

The Motherf–r with the Hat (2011) – Chris Rock

140

86%

$80.55

The House of Blue Leaves (2011)
– Ben Stiller & Edie Falco

93

86%

$76.13
* Through June 2, 2013.
Though the ticket prices vary, it's clear that for most of these productions the stars had little issue recouping the producers' investments.  However, one could make an argument that the real problem with star casting isn't economics but its reliance on revivals and not original work.  If you look at the chart, almost half of the productions are among the most popular plays ever written.  This obviously helps with drawing an audience made up of people who aren't Broadway regulars – after all, seeing Philip Seymour Hoffman on Broadway is an experience, but seeing him in the beloved Death of a Salesman makes the ticket price see almost reasonable to the atypical theatergoer. Obviously this isn't always the case – for example, both Lucky Guy and I'll Eat You Last made their debuts on Broadway – but it is definitely a noticeable trend.
Of course, not every production featuring a star is successful.  As I stated before, the price of casting a star is usually a hefty salary – and some "stars" haven't proved to be the draw they were expected to be.  On Monday I'll be taking a look at recent examples of when star casting didn't work out and analyze where it went wrong.