Interviews

Q & A: Lili Taylor and Minka Kelly Talk 'Almost Human', How They Got Their Roles and Imagination
Lili: Imagination is "one of the fuels for an actor"

Q & A: J.J. Abrams Talks 'Almost Human', the Cast and 'Star Wars'
J.J.: "I think that this show has a level of humor that is distinct from what we've done"

Interview: Josh Young on 'Evita', Playing Che and Being Nominated for a Tony
Josh on his Tony Nomination: "I feel like I have expectations now to live up to now"
Click Here For More Interviews!
Acting Advice

Dear Hollywood: An Open Letter From Annie Wood
Annie asks Hollywood to consider….

How To Act Like You're Already A-List
Dallas has 3 suggestions on how to take charge of your career!

Moving From A Small Town To A Major Market
Before moving from a small town to a major market, you must make a business plan
Want To Read More Columns? Click Here!

Latest News
B.J. Novak on 'Saving Mr. Banks': "There was just this real awe of being part of this elegant production"
December 13, 2013 | Leave a Comment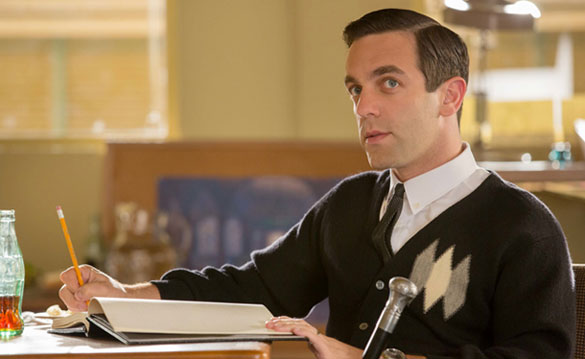 Many pegged B.J. Novak as being set for movie stardom by many after he landed a significant role in Quentin Tarantino's Inglourious Basterds, but between working on The Office as an actor, producer, writer, and director he was a bit busy to chase Hollywood stardom.  Now that The Office has ended, Novak has his first significant post-Office movie role in Saving Mr. Banks, which is about the making of Mary Poppins.  Novak stars as Robert Sherman, one half of the real-life songwriting brothers who wrote so many classics for Disney and other studios (his brother, Richard, is portrayed by Jason Schwartzman).  Novak spoke about to Moviefone about the experience working on the film, getting apologizes from Emma Thompson, and how the movie relates to his own career. Continue »
Watch Leonardo DiCaprio, Jonah Hill and Martin Scorsese Talk 'The Wolf of Wall Street'
December 12, 2013 | Leave a Comment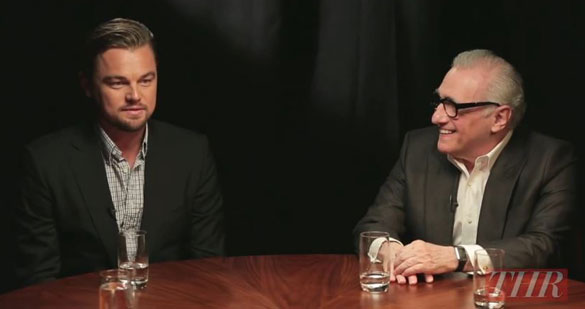 The Hollywood Reporter got Leonardo DiCaprio, Martin Scorsese, Jonah Hill and writer Terence Winter to talk about their new film, The Wolf of Wall Street.
DiCaprio and Hill are wonderful in the film and the more I think about it, the more it grows on me. You've never seen DiCaprio in a role like this and damn, does he knock it out of the park.
Scorsese and DiCaprio talk about how they first met, casting Jonah Hill, DiCaprio's 4-page monologues and more. The Director also talks about the advice he got from Steven Spielberg and if he ever gets nervous on-set.
Check it out! Continue »
Director David O. Russell Narrates an 'American Hustle' Scene Starring Christian Bale and Amy Adams
December 12, 2013 | Leave a Comment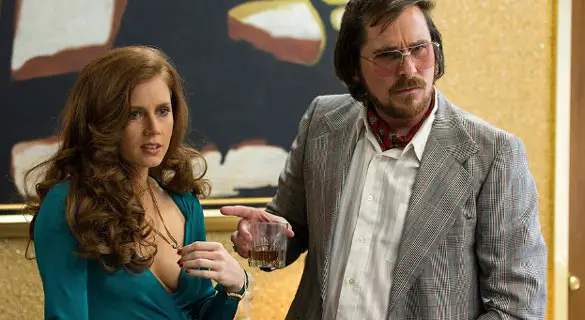 In this New York Times Anatomy of a Scene, Director David O. Russell narrates a scene from his upcoming film, American Hustle.
The scene is early on in the film and features Amy Adams and Christian Bale in one of their first encounters. I really liked the film and the performances by Adams, Bale and Jennifer Lawrence were fantastic. And, the period clothing the cast wears is worth the price of admission.
Check it out below! Continue »
Taylor Kitsch Talks about 'Lone Survivor', 'The Normal Heart' and His 'Friday Night Lights' Audition
December 12, 2013 | Leave a Comment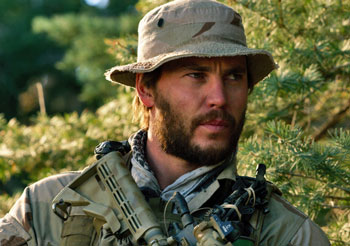 Taylor Kitsch will forever be known as Tim Riggins in the beloved TV series Friday Night Lights, but he has a big year ahead of him with two important films Lone Survivor and The Normal Heart.
Lone Survivor follows four Navy SEALS who do their best to stay alive while on a mission in Afghanistan. Kitsch co-stars with Emile Hirsch, Mark Wahlberg and Ben Foster. The actors found the shoot to be an emotional experience. It was even tough to watch the final cut.
The 32-year-old star said, "I broke down three times. You just hold all this energy in as an actor, and I didn't truly let it go until then. Knowing all the families and getting to be a part of it and tell the story … yeah, it fuckin' crushed me. That's what takes you out of your head when you're watching yourself." Continue »
Emile Hirsch's Audition for 'Lone Survivor' was a 3-Month Long Gym Workout
December 12, 2013 | Leave a Comment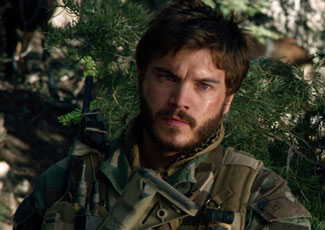 Sometimes actors dread auditions. For one actor, he had the opportunity to skip the audition under one condition…he had to work out. Emile Hirsch was cast in the Peter Berg-directed Lone Survivor as a Navy SEAL in Afghanistan, so the role required some rigorous gym time.
He said, "No audition other than the working out."
While that sounds pretty easy, it actually backfired on the 28-year-old actor.
"I gained weight for Prince Avalanche trying to get Lone Survivor," Hirsch said, "thinking that if I got really big that Pete would be impressed with my body."
He put on 20 pounds, but the director was not impressed at all. Continue »
Adam Sandler Tops Forbes' 2013 List of Overpaid Actors
December 12, 2013 | Leave a Comment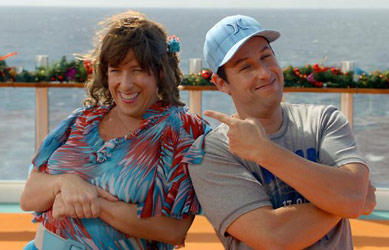 Each year Forbes releases a list of the most "overpaid" actors — in other words, actors who deliver the least amount of box office for the investment to cover their hefty paychecks.  Last year the list was topped by Eddie Murphy (big surprise), who doesn't make the list this year because he wisely decided to take a little break from movies.  But this year another Saturday Night Live veteran took his spot at the top: Adam Sandler.
Adam Sandler had the two biggest bombs of his career back-to-back with 2011′s Jack and Jill and 2012′s That's My Boy, but had a massive worldwide hit with the animated Hotel Transylvania (however, the Forbes list does not count animated films).  The struggling box office of those two movies suggests why Sandler made his first sequel, Grown Ups 2 (which was a big hit for him), and is reuniting with Drew Barrymore for Blended, with whom he made two hit romantic comedies.  However, Forbes' data "looked at the last three movies each actor starred in over the three years to June 1," so the July release of Grown Ups 2 did not make the cut.  Forbes estimates that for every dollar Sandler was paid, the films returned $3.40.  Still, Sandler at least can take comfort in knowing he probably won't be #1 next year because of Grown Ups 2… unless he has another bomb in the first half of 2014. Continue »
The 2014 Golden Globes Nominations: 'American Hustle' & '12 Years a Slave' Earn 7 Nominations
December 12, 2013 | Leave a Comment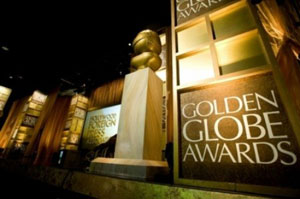 The Golden Globe nominations were announced while I was sleeping this morning but looking at the list below, there is nothing that screams 'HUH?'
12 Years a Slave and American Hustle were the big guns with seven nominations each. Martin Scorsese's The Wolf of Wall Street scored two nominations (Best motion picture, musical or comedy and Best Actor, musical or comedy for Leonardo DiCaprio). 
All of the film nominations are consistent with the other organizations, except for maybe Philomena which hasn't gotten a huge amount of love yet. And Idris Elba, finally, got a nomination for his amazing work in Mandela.
On the TV front, Netflix's House of Cards and HBO's Behind the Candelabra both received four nominations.
The Golden Globe Awards, with hosts Tina Fey and Amy Poehler, will air live on January 12th on NBC.
Check out the list below! Continue »
20th Annual Screen Actors Guild Award Nominations
December 11, 2013 | Leave a Comment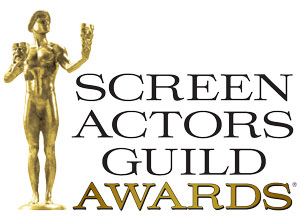 The 2oth Annual Screen Actors Guild Awards (next year, they'll be able to drink legally) were announced this morning and except for a few head-scratchers, the nominations were filled with who you'd expect.
First of all, I don't think the nominating committee got a chance to watch Martin Scorsese's The Wolf of Wall Street. If they had, Leonardo DiCaprio would definitely be on the Male Actor in a Leading Role list. Same goes for Jonah Hill. Both were excellent in the film.
Bruce Dern was nominated in the Male Actor in a Leading Role for his work in Nebraska. I thought he was fine but no where near as good as Oscar Issac in Inside Llewyn Davis. In the Supporting Actor category, Barkhad Abdi getting a nomination for his work in Captain Phillips is a nice gesture and all but come on. Didn't anyone see The Way, Way Back? Sam Rockwell killed it in his performance.
And giving the cast of Lee Daniels' The Butler a nomination for Outstanding Performance by a Cast is a complete joke. There were some fine performances in there, absolutely, but as whole? Not freaking way. Did they see John Cusack as Nixon?
The 20th Annual Screen Actors Guild Awards® will be simulcast live nationally on TNT and TBS on Saturday, Jan. 18, 2014 at 8 p.m. (ET)/5 p.m. (PT) from the Los Angeles Shrine Exposition Center.
Final voting information will be mailed via postcard on Monday, Dec. 16. The eligible SAG-AFTRA membership across the country, numbering approximately 100,000 actors, may vote on all categories. All votes must be received by noon on Friday, Jan. 17. Results will be tallied and sealed until the envelopes are opened by the presenters at the 20th Annual Screen Actors Guild Awards® ceremony on Jan. 18, 2014.
Check out the list below!  Continue »
'American Hustle' Star Amy Adams Says Working with Christian Bale is like a "master class"
December 10, 2013 | Leave a Comment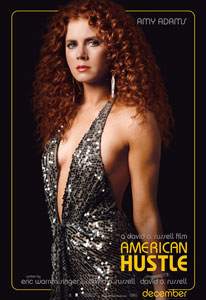 One of the eagerly anticipated films of 2013 is American Hustle. It brings back a group of actors who have had a strong collaboration with director David O. Russell. Christian Bale, Jennifer Lawrence, Bradley Cooper and Amy Adams have all a part of Russell's work over the last five years.
In his latest film, Adams plays Sydney Prosser, an inexperienced grifter who has an affair with a veteran con man played by Bale.
The 39-year-old actress told The New York Times some pretty interesting things about her character.
She said, "[Sydney] is the most miserable human being I've ever played. She is not — happy. I'm used to playing people that, even if they're survivors, there's some sort of light in them. I don't know that she has that, necessarily."
Adam's preference? Continue »
Interview: Iranian Actor Alain Washnevsky
December 10, 2013 | Leave a Comment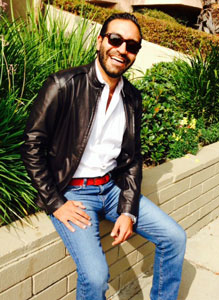 by Theresa Pickett
Iranian actor Alain Washnevsky moved to Europe when he was 2. After growing up in Vienna Austria, Alain started working in a real estate agency when he was 18 and at 20, he became a partner. As a world traveler, Alain is fluent in German, Farsi (Persian), English, and some basic French – a helpful and impressive skill for an actor!
In July 2011, Alain moved to L.A. and studied acting for two years in the Promenade Playhouse Conservatory in Santa Monica where he graduated in July 2013. Alain acted in three plays that received some excellent reviews.
Because I am doing publicity and public relations for the feature film Misogynist, which recently became an official selection at the Los Angeles Underground Film Festival, I crossed paths with Alain through a mutual acquaintance. Alain is credited for doing set photography on the movie Misogynist, and he was generous to offer an interview. Continue »