Interviews

Q&A: Scott Foley talks 'The Goodwin Games' and Why He Loves Working in Television
Scott: "My job as an actor is to find the real moments of the characters"

Q & A: John Krasinski Talks the End of 'The Office', His Audition, Past Commercials and More
John on the end of 'The Office': "It's a life-changing event and there's just no way to describe it"

Interview: Johnny Ray Gill on 'Rectify', Booking 'Harry's Law' Right Out of College and Making "Bold Choices"
Johnny on auditions: "Each character is a jigsaw puzzle & after I get the call 9from my agent) my quest is to find how all the circumstances fit"
Click Here For More Interviews!
Acting Advice

Keep the Drama on the Stage: How to Get Along with Your Fellow Actors
Ego and competition! 3 Steps to get along with your actor friends

The Actor's Guide to the Twitter-verse
There's a right way and a wrong way to tweet. Dallas shares 2 easy tips to help you make the most out of your tweets

4 Steps to Gaining Publicity and Utilizing the Power of Networking
Publicity is something that everyone in entertainment should be conscious of!
Want To Read More Columns? Click Here!

Latest News
September Appearances (Week of 9/22)
September 22, 2008 | Leave a Comment
Matt Riedy
Cold Case
Co-Starring as Dr. Gus Lason
September 28th
CBS @ 9pm
The Edgy Anne Hathaway?
September 21, 2008 | Leave a Comment
Anne Hathaway has been reinventing herself on the red carpet as a confident, single woman who doesn't care about that guilty, sleazy a-hole who lied to the Vatican so he could take her on exotic trips and buy her fancy jewelry.
Will Ferrell will keep his balls to himself
September 21, 2008 | Leave a Comment
Will Ferrell is giving up athletics — at least in movies. "I will no longer attempt to do any sports movie, anymore. Any sports."
Dylan wont be headin to Baja on the new 90210
September 19, 2008 | Leave a Comment
Luke Perry has confirmed that he will not be appearing on the CW's 90210, despite the reveal in Tuesday's episode that Dylan McKay is the father of Kelly Taylor's (Jennie Garth) son Sammy.
Ricky Gervais is the man of the moment
September 19, 2008 | Leave a Comment
Ricky Gervais as a leading man? Don't laugh. That is, do laugh – just don't be surprised if you shed a tear or two in "Ghost Town," in which Gervais plays a misanthropic dentist who develops the ability to see ghosts, then falls in love with a young widow whose late husband he meets on the other side.
Click here for another interview.
What do the SAG Election results mean?
September 19, 2008 | Leave a Comment
Here is Deadline Hollywood Daily's analysis of the election results.
NBC's Web sites see surge in traffic
September 19, 2008 | Leave a Comment
The Peacock felt gale-force winds beneath its wings this week on the Internet. A trio of unrelated events conspired to give NBC Universal record traffic at three Web locations: CNBC.com, NBC.com and iTunes.
Merger Fans Have Strong Showing in SAG Election
September 19, 2008 | Leave a Comment
Unite for Strength, the platform launched by Kate Walsh, Amy Brenneman and Doug Savant who have been ready to vote on a new contract for months, won six of a possible 11 Hollywood seats on SAG's national board, according to ballot results announced Thursday.
'Worst Week' for Kyle Bornheimer? Yes but no.
September 18, 2008 | Leave a Comment
Kyle Bornheimer is an affable, regular-Joe type with a rapid-fire delivery, who, at 33, has mainly been seen in a slew of humorous commercials that left viewers wondering, Who IS that funny guy?
Sam Jackson loves to play the bad ass
September 18, 2008 | Leave a Comment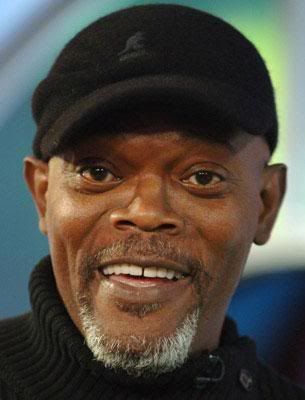 Samuel L. Jackson has played his share of good and bad cops as well as likable and unlikable crooks.  "If you do enough movies, you're going to play cops a lot, and you're going to play bad guys," said the actor, 59.