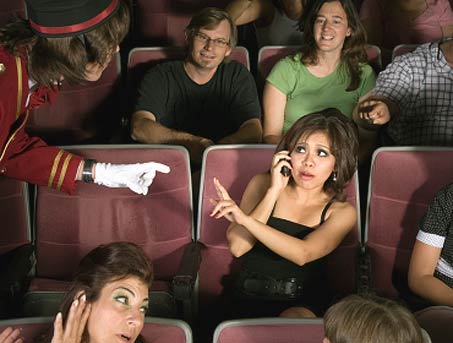 Next time you see a play in New York City be very sure not to use your cell phone during the performance… not only because it's really, really rude, but also just in case you are sitting next to Kevin Williamson.
Williamson, who is the Deputy Managing Editor for The National Review and writes about theater for New Criterion, was in attendance at a performance of Natasha, Pierre, and the Great Comet of 1812, a cabaret-style musical adapted from Leo Tolstoy's War and Peace.  The production takes place in a tent and the audience is seated at small tables, which led to an incident in which Williamson was thrown out for throwing another close-sitting patron's cell phone across the room. Read more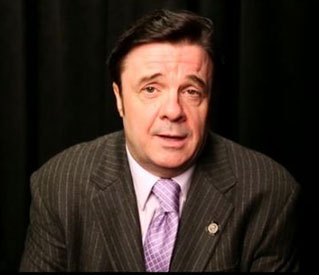 Broadway.com has a series of videos called 'Secrets of Tony Nominees!' and in this installment, they asked Tony Nominee Nathan Lane (The Nance) a handful of questions like what his life-changing role is, his Broadway hero's and the first Broadway show he ever saw.
Check it out below! Read more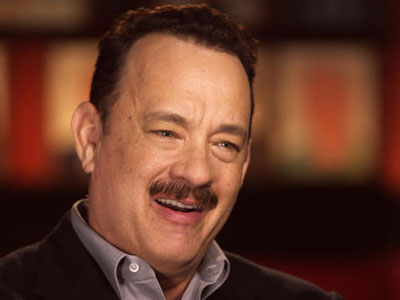 Tom Hanks is riding high right now. He's got a hugely successful Broadway show, Nora Ephron's Lucky Guy. He's nominated for a Tony Award, the show has already recouped it's investment and, wait for it…. he was just voted as the most trusted man in America by Readers Digest.
Yesterday, he appeared on CBS' Sunday Morning where we were treated to some clips of the show – which makes me want to see it even more. Read more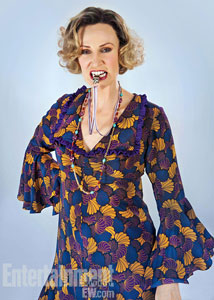 Though Jane Lynch has already admitted that she is scared about making her Broadway musical debut as Miss Hannigan in Annie this Wednesday, she confessed to The New York Post that she secretly always wanted to do the role.
She points out, "I used to have a list of things I wanted to do and Miss Hannigan was one of them." 
However, Lynch had never seen a production of the musical until this January and she has never seen the 1982 movie adaptation.  So when she talks about what made her always want to the role, she reveals that it was a result of her love for the 1977 original cast album, which featured Dorothy Loudon as Miss Hannigan.  She clarifies, "I know the soundtrack of course — every breath of it!  And I don't know if I ever had the cojones to say that I wanted to play this role on Broadway, but I've always wanted to do musicals." Read more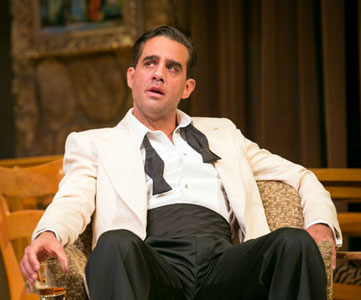 Check out Bobby Cannavale and Reg Rogers in a clip from the Roundabout's revival of Clifford Odet's, The Big Knife. Read more

Here's a clip from Douglas Carter Beane's new Broadway play, The Nance, featuring Nathan Lane and Jonny Orsini.
Check it out below! Read more
Naturally the name "Tom Hanks" (also known as the most trusted person in America!) stands out on the poster for Broadway's Lucky Guy even more than the title.  Being that Hanks is one of the biggest movie stars in the world that makes sense, but it also makes it easy to forget that there are other talented individuals in the production, like Courtney B. Vance.  The New Pittsburgh Courier interviewed Vance about working on Lucky Guy and his thoughts on what road he might have taken had he not become an actor.
First he speaks about what he looks for in a role in general and in his Lucky Guy role in particular.  He says, "I look for roles that challenge me, and I consider whether it is something that I and my family will be proud of. Will my family be proud to watch the work and will it challenge me? In this case it was the opportunity to work with [writer] Nora Ephron and Tom Hanks and [director] George C. Wolfe; if the three of them are involved, I am in it. George is a taskmaster, and we are all exhausted, but exhilarated. He is relentless because his vision is so big." Read more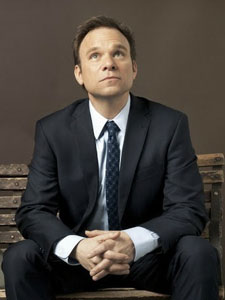 So if you already have gotten two Tony Awards for Best Leading Actor in a Musical, you shouldn't be getting nervous about taking your next lead role on Broadway, right?  Based on his interview with The St. Louis Dispatch, Norbert Leo Butz would disagree with you.
With the Chicago tryout of Big Fish — a musical adapted from the 2003 Tim Burton film — now wrapped up and heading to Broadway in September, Butz admits he's feeling nervous about it.  He confesses, "Talk about a tough gig.  I hope somebody will get some inspiration, some positive re-enforcement, from it. This acting thing is not for sissies.  But when I was in college, you couldn't have told me that I wouldn't be a working actor."In fact, he was convinced he would become an actor ever since high school, in which he starred not only in his high school's plays but also in plays in all-girls schools in his hometown.  He says, "The acting bug bit me before I graduated.  I just fell in love with theater, with a love bordering on the obsessive. I couldn't get enough." Read more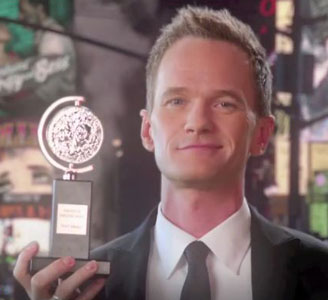 While the Oscars can't seem to find someone who wants to host more than once (except for Billy Crystal, who probably clears his calendar every year just in case), the Tonys will be going with a regular: Neil Patrick Harris.
The 2013 ceremony will be Harris' fourth time hosting in five years (Sean Hayes hosted in 2010).  He's gotten great reviews each time out, so why not?  According to the New York Daily News, which broke the news yesterday (everyone else confirmed it today), Harris has "quietly" been going to all the nominated shows over the past few days.  Therefore we can probably expect the usual song and dance greatness Harris can bring to the stage riffing on the nominees and nominated shows. Read more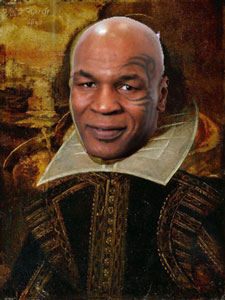 While he never garnered great reviews, Mike Tyson just completed a three-month tour of one-man show Undisputed Truth across the United States.  Snicker all you want, but Tyson has built up with a noteworthy acting resume over the last few years, with scene-stealing cameos as himself in The Hangover and The Hangover Part II and a featured role in an episode of Law & Order: Special Victims Unit.  However, Tyson is adamant that he plans on continuing his acting career, and even has a specific Shakespeare role he would like to tackle some day.
He revealed his knowledge of the Bard to reporters a few days before his show ended its run in Chicago by asking, "Wouldn't Shakespeare be awesome?  That black guy … could you imagine me in Othello?"
Tyson later backpedaled a bit on whether he was prepared to play the Moor of Venice, but also confesses that he believes he can do it, saying, "Anything you give me time to prepare, I can do.  I don't think I am ready for that yet, but I would like to try." Read more