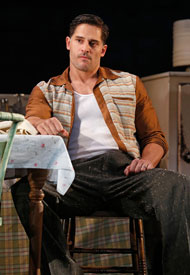 Every few months we run a story here at Daily Actor which I think sets a new low in lack of theater etiquette. There was that time someone in the balcony threw up onto the audience below.  There was that time that an audience member refused to stop using her phone so a nearby writer took it and threw it across the theater.  Then there was that time that the short-lived Breakfast at Tiffany's play had to ask audience members to stop taking photographs of star Emilia Clarke during her brief nude scene.  Often there is little the actors can do about this behavior except ignore it as they go on with the show.
But Magic Mike actor Joe Manganiello, who is currently starring in Yale Repertory Theatre's production of A Streetcar Named Desire, struck back at a rude audience member who took photos during the first act of the performance. 
First, he turned to the audience and — while staying in character as Stanley Kowalski — "Can you stop with the camera? You have no idea how distractin' it is!"  During intermission, he took to Twitter to post, "Dear person taking pictures during our show tonight… The ushers are going to be looking for you and you will be thrown out…" and "…you are insanely distracting to all of the actors onstage and incredibly rude. If you read this, please leave and don't come back."  Hours later, he also tweeted, "I'm happy to take pics outside after the show and @yalerep posted some fantastic shots of the play that they took. Please be respectful."
It appears that Manganiello's on-stage request and tweets did the trick as there were no further incidents.  But it's yet another example of people who seem to think that rules are in place for everyone except themselves.  It's unfortunate that not even a night at the theater is safe from that!
via Broadway World