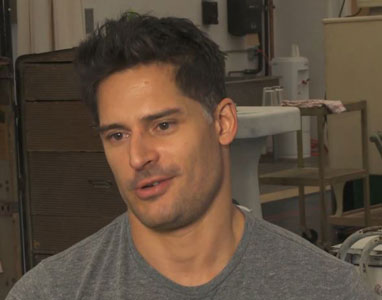 For True Blood fans, Joe Manganiello is known for his portrayal of Alcide Heveaux, the leader of a werewolf pack on the HBO show. The primal role was the big break in his career, but he's using his hiatus from the show to go back to where he started, the theatre.
The 36-year-old classically trained actor is spending part of his fall at New Haven's Yale Repertory Theatre playing Stanley Kowalski in A Streetcar Named Desire. He talked with The Courant about the iconic role and how his commanding physique got him cast without auditioning.
He shared, "Mother Nature took care of a lot in that regard." However, he does work out regularly for his character during the True Blood season.
Manganiello continued, "I'm playing a human being finally. I get in there and lift every morning but it's not like True Blood when I'm working out for size and for cutting because I'm playing a supernaturally strong character."
The actor has changed up his focus for the stage role by placing importance "on what the character means to me, what the story is that I'm telling, how I connect to it on a human level and what my instinct is telling me. You then have to pull something out of your gut that cannot be false in any way."
The Magic Mike star knows he has to be authentic in the roles he plays. He had a turning point in his career that finally gave him the clarity and the vulnerability he needed as an actor.
"Acting for me originally was the perfect job because I could put on a mask and not have to be myself and not have to live in reality. When I got sober I was confronted with myself and realized I had to tell the truth," he explained. "It's difficult when so much of your identity is wrapped up into something like drinking or nightlife. That's who I was so when you're stripped of all of that, there's a spiritual, mental, emotional state of nakedness. Your identity is gone and you don't know who you are."
Manganiello will be back on set with the True Blood cast in January. Hopefully next season will be more fulfilling for him because he thought the way his character was written last season, "became a throw-away. It's was more like, 'Oh, let's go find something for him to do and stick him over in this plot' that has nothing to do with the rest of the show. It became like a struggle. Like, I'm not going to growl in every single scene. Let me just get through one scene. I'll growl in the next one. It became this kind of bartering of taking the shirt off and growling. I'm not complaining. But now I'm working with amazing people and getting back to being an actor where I can act every day."
A Streetcar Named Desire runs from Sept. 20-Oct. 12 at the Yale Repertory Theatre in New Haven, Connecticut.