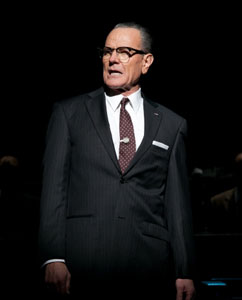 Bryan Cranston will make his Broadway debut as Lyndon B. Johnson in the play All the Way.
The play will finish its run at the American Repertory Theater in Cambridge, Massachusetts this Saturday.
Synopsis: 1963. An assassin's bullet catapults Lyndon B. Johnson into the presidency. A Shakespearean figure of towering ambition and appetite, this charismatic, conflicted Texan hurls himself into the Civil Rights Act, a tinderbox issue emblematic of a divided America. In the Pulitzer Prize–winning playwright's vivid dramatization of LBJ's first year in office, means versus ends plays out on the precipice of modern America.
Besides Cranston, no other casting has been announced.
The dates haven't been confirmed but performances are planned to begin sometime this winter.