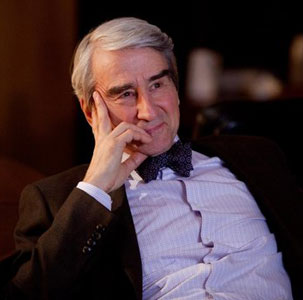 Sam Waterston has found himself another role on television that he can sink his teeth into. After playing Jack McCoy on Law and Order for 16 seasons, Waterston is now starring as Charlie Skinner in Aaron Sorkin's new HBO drama, The Newsroom. 
Jeff Daniels appears with Waterston on the show as newscaster Will McAvoy—the two had previously worked together in theater – and he recently talked to The Los Angeles Times about working with the actor. "I just knew he'd be a great sounding board for me, and he was," he said. "He would check in with me over the course of the series and go, 'How are you doing? You doing all right?'  I always enjoyed our scenes together because the two of us have a history, Charlie and Will have a history, and we were able to kind of draw on knowing each other for well over 30 years."
When asked about the criticism, Waterston said he doesn't agree with critics of the show who say Sorkin's scripts come off as sanctimonious.  "I think it's aspirational," he said. "I would only think people would use that word [preachy] in order to dismiss it because there's a lot of opinion in it.  God help us, isn't there a lot of opinion in the talking-heads world of cable television?  I think that the only thing that really drives Aaron nuts about the news business is the lying—that's a completely bipartisan and unpreachy thing, if you ask me.  It seems to me that that's coming from some place much more visceral than where people preach from."
The Newsroom airs Sundays on HBO at 10 p.m.