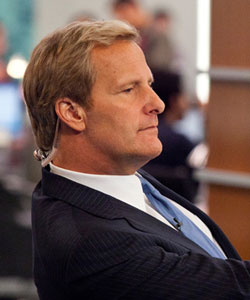 Jeff Daniels, star of the Aaron Sorkin's new HBO drama, The Newsroom, is quick to defend the show against the criticism that has appeared in the media and he thinks that any noise about the show is positive.
In an interview with The Los Angeles Times, Daniels said, "The fact that it's blown up, the fact that people love it and that people hate it—that people are just screaming at Sorkin and getting bent out of shape about this, that and the other thing—it's great.  What we love, believe it or not, is that people are talking about it."
Daniels, who plays newscaster Will McAvoy, said that his biggest challenge on the show was memorizing the lines and taking on Sorkin's signature rapid-pace dialogue.  "It takes a while," Daniels said.  "I don't have a photographic memory so it's reps.  The short answer is, you memorize it like a grocery list.  You just get the words in there in the right order—don't do anything with them and then you pick up speed.  Once you start to pick up speed, there's a rhythm to them.  Aaron writes rhythmically, there's a musicality to it.  Then it becomes a little easier to go through it…Once you get it in your head, it just kind of rolls.  It flows like a river…a very fast river."
The Newsroom airs Sundays on HBO at 10 p.m.