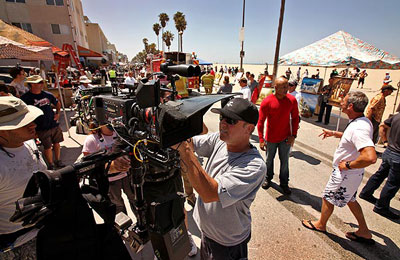 As a native New Yorker, I'm happy that so many films and television shows have been shot here over the last dozen years or so.  When I was growing up, it was far less common for movies and television shows to actually be shot in New York — even if the stories were set in New York! 
However, the rise in productions filming in New York certainly had to come at the expense of other areas, including Los Angeles.  After several years of declines or stagnation — mostly because of the economy and productions filming elsewhere because of tax credits — it appears that production in Los Angeles is bouncing back in a big way.
The Los Angeles Times reports that film production in Los Angeles was up 18% in the first quarter of 2013 versus the first quarter of 2012 (13,361 production days in 2013 versus 11,360 days in 2012).  This is the second consecutive quarter to post a double-digit rise.  Additionally, there were 38% more television pilots filmed in Los Angeles this season than last year.  To put that in perspective, in 2007 63% of television pilots were filmed in Los Angeles — in 2012 that number had shrunk to 29%.  Additionally, filming for web series increased 35%.
The Times article quotes Paul Audley, president of FilmL.A., who says, "One quarter can't undo all the troubling declines we've experienced, but we're certainly encouraged to see things moving in the right direction."  FilmL.A. is the nonprofit organization which issues filming permits and compiled the report. 
However, there are some disappointments in the report, including with the number of commercials being shot in Los Angeles.  Although the number did not drop, it did not increase — which is yet another piece of bad news for commercial actors.  Additionally, many of the films being shot were low-budget productions which do not generate the same amount of jobs as huge Hollywood blockbusters.