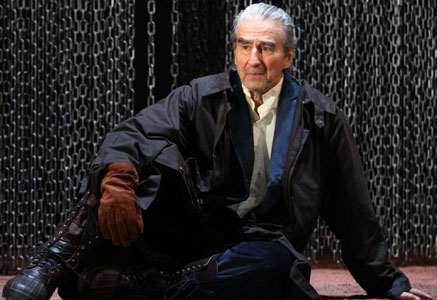 Sam Waterston, known to many as Jack McCoy on the decade spanning series Law & Order, is enjoying getting back to his roots at New York's Public Theater. Through November 20th, he is starring in Shakespeare's King Lear.
Nearly 40 years ago, Waterston got his first break in the acting industry at that very theater, playing Benedict in the 1972 production of Much Ado About Nothing. He says that the theater launched his career. "My career would be unrecognizable if it wasn't for the Public Theater. It wouldn't be anything like what it is now. Nothing," he says. "They brought me to public attention and then they've given me the opportunity to do so many great parts."
Waterston has since become a recognizable face in numerous films and television shows, including of course Law & Order, on which he starred for the much of the 20 year run. Waterston was as surprised as anybody that the show lasted as long as it did. "It's something that came along. I didn't expect it to last that long. If it lasted that long, I never expected to stay with it that long," he says. Even though the show might have taken time away from other projects, he was grateful for the filming schedule which still allowed him time to work on other roles and continue living in New York. "[The] balance of benefits to debits? The credit side is way high," he explains.
Even though original episodes are no longer being produced, many channels run reruns on a regular basis and at all hours of the day and night. "I've helped a lot of people with insomnia," he says. "I'm not watching at 2 o'clock in the morning but I'm glad someone is."
For now, however, Waterston has put McCoy behind him to focus on Lear, and he couldn't be more excited about it. "You can't have any idea how cool it's going to be until you do it. This is idiotic to be saying this, but it's a great, great play. It's like saying `War and Peace' is a great book."
Of the play's recent resurgence in popularity, he goes on to say that "There was a long period when people didn't do `Lear' at all because they thought it was too grim, too harsh, too awful. And now, in the 21st century, we've been getting an advanced education in just how awful things can be, it's become one of the most popular and done plays of his."
Despite the fact that there have been two productions in New York in the past year alone, Waterston has never seen the show. "I've never seen `Lear.' I haven't ever. This year, I deliberately didn't go because I thought it was too close. So therefore it was too late to steal and I'd be too influenced." That doesn't mean he hasn't been interested. After appearing in many of Shakespeare's works, Waterston has been waiting for his turn as the King. "I thought, `Well, you've got to get old, there's no way to avoid that, but at least there's Lear to look forward to.'"
Written by Jillian Sara Santella