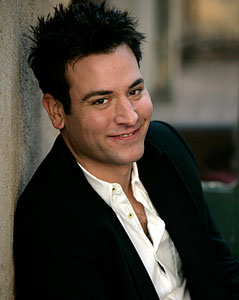 Hate your job?  Then you definitely shouldn't have a conversation with Josh Radnor.
Radnor, one of the stars of TV's How I Met Your Mother, appeared at the University of Southern California to speak about his career.  According to him one of the major highlights has been starring in the popular sitcom, but not just because audiences enjoy the show. 
In fact, Radnor revealed that he has a wonderful time working with his castmates on the show.  "I guess we do laugh a lot during the day, and I don't know a lot of people who can say that about their work place," he said. "If I wasn't in How I Met Your Mother, I'd probably be a fan of the show."
However, as many have speculated How I Met Your Mother is closer to its ending than its beginning, especially since the stars have begun to branch out to other projects (Radnor himself has directed two films, including Liberal Arts, which premiered at the Sundance Film Festival).  Radnor expressed the uncertainty around the series' future when he was asked how much longer the show will run.  He replied, "At least one more year, but I'm not sure beyond that."
Despite that, Radnor certainly has a number of career options post-How I Met Your Mother, the problem would be narrowing them down!  But it looks like Radnor is planning on appearing on the stage again first, followed by a return to directing.  He said, "[Theater's] probably my favorite form of acting.  I always play this game in my head whether I want to act or direct or write, and I actually like all of it, but I'd like to direct a movie that I'm not in, because I'm in both of my first two movies."
Whether Radnor will join the ranks of the growing number of great actors-turned-directors is something we'll have to wait for until we finally find out how he met his kids' mother.
via The Daily Trojan