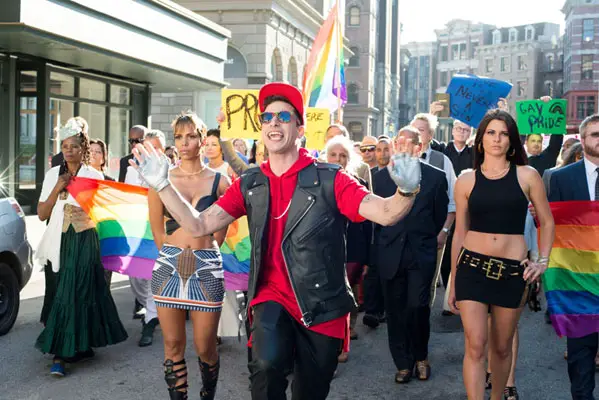 Popstar: Never Stop Never Stopping, the new film from Saturday Night Live alums and The Lonely Island trio (Andy Samberg, Jorma Taccone, Akiva Schaffer), is absurd, often hilarious and thankfully never takes its site off their intended mark, namely today's pop stars.
The film is a big goof on stars like Justin Bieber, which is gladly welcomed and it'll remind you of Steve Martin's The Jerk in how (mostly) over the top it is. It'll also remind you a bit of This is Spinal Tap because it goes behind the scenes of rapper Conner4Real (Samberg) as he films a documentary about the upcoming release of his sophomore album.
It starts off with Conner and his childhood friends Owen (Taccone) and Lawrence (Schaffer) were a huge hit early on with their hip-hop group, the Style Boyz. But, as it usually happens, someone is always thrust out as the lead and Conner was only too happy to accept. After all the hype, Conner leaves the band to start his solo career. Owen fades in the background, becoming the DJ for Conner and Lawrence moves to Colorado, grows a beard and becomes a farmer. But with his latest album flopping, Conner is desperately trying to stay relevant, all while the cameras follow his every move.
We're treated to cameos from Simon Cowell, Usher and Ringo Starr who all praise Conner. The best of them though is Adam Levine from Maroon 5 and The Voice, who appears as a hologram during one of Conner's concerts. At one point, there is more than one Adam Levine hologram and if you look quick, you'll see one Adam hookup with another.
Conner is headstrong and ambitious but clueless as hell and Samberg plays these types of guys to perfection. Taccone, who you may have seen in some episodes of Girls and Parks and Recreation, is a gifted comedy writer. Here, he basically plays the straight man to Samberg's Conner. It's usually an underappreciated role but he's got some really nice moments here, especially when Conner forces him to start wearing a robot mask like Deadmau5.
The songs, like the ones they performed on SNL, are great (though some go on a bit too long) and the other cameos, like Bill Hader (as a roadie) and Maya Rudolph, are funny but way too short. The only real disappointing part of the film is Justin Timberlake, who plays Conner's personal chef. He's a nice actor, but whenever he appears, it takes you right out of the movie.