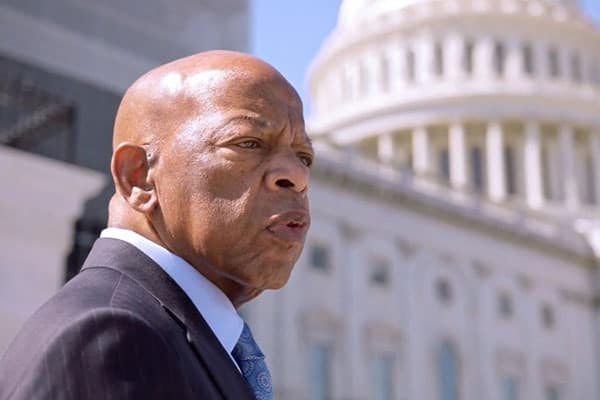 I wish there were more people like John Lewis representing people in Congress. Heck, I wish there were more people like John Lewis in the world. He's spent his life's work fighting wrongs and trying to make things right for people of all colors. John Lewis is a hero.
In the wonderful new documentary, John Lewis: Good Trouble, director Dawn Porter gathered footage (some of which was so rare, Lewis had never seen it) and interviewed some of the biggest names in politics to chronicle the life of the now 80-year old Congressman. And what a life it's been. From marching with Dr. King, running for Congress and his many years of public service, there was a lot to cover. It paints a picture of him as a smart, determined man with the occasional mischievous streak. For an example of the streak, wait for the video of him dancing to Pharrell's 'Happy.'
From the time he was a kid, Lewis knew that he wanted more out of life. His mom instilled a deep sense of right and wrong at an early age and when he saw Martin Luther King Jr. speak, he knew what he wanted to do. "He's not much older than me," he thought. Lewis quickly sent him a letter, King responded and off he went.
He tells the story of the walk across the Edmund Pettus Bridge in Selma, Alabama, a terrible time in American history, where he was beaten just for the color of his skin. There's the story of running against his friend in his win for congress and the sweet stories of his marriage to his late wife, Lillian. One thing I wish they had covered a bit more is his love of chickens. Seriously. There's several shots of him holding chickens and he even had a dollhouse retroed into a chicken house.
One side note: Lewis' longtime friend and colleague, Elijah Cummings, who died last year pops up to tell some entertaining tales.
The title of the film comes from Lewis' often used phrase, "If you're going to get into trouble, make sure it's good trouble." We should be thankful for Lewis and all the good trouble he's gotten himself into.