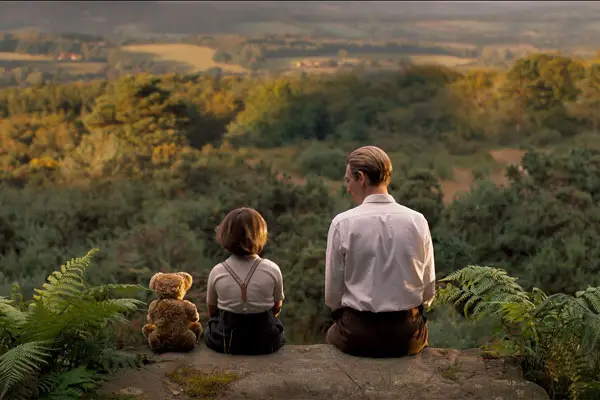 It's always interesting to find out the backstory and creation of a character that you grew up with, especially one that is as beloved as Winnie the Pooh. Who's parent's didn't read them the adventures of Pooh, Piglet, Eeeyore, Tigger and Christopher Robin? And who hasn't seen the who hasn't seen the Disney movies at least a hundred times?
Domhnall Gleeson plays A.A. Milne, a successful playwright, who at the beginning of the film goes off to war. He does it for completely altruistic reasons, thinking this will be the last world war, that this one ill save and transform the world into a place of good. When he gets back, he's got lingering PTSD issues, writers block, a wife, Daphne (Margot Robbie) who hates that he's been gone so long and an adorable young child, Christopher Robin.
Along with their nanny, Olive (Kelly Macdonald), they soon move into the country so that he can get some peace and quiet in an attempt to write. Procrastination happens more than writing, so a frustrated Daphne leaves for the city, telling him that she won't come back until he begins writing again. When Olive must leave to tend to her ailing mother, Milne and Moon, they're nickname for the boy, start spending their days together where they begin to build a world with his stuffed animals; Eeyore, Tigger and Piglet. With the help of big black bear in the city zoo, he finally comes up with the story of Winnie the Pooh, Christopher Robin and the thousand acre wood.
Obviously, huge success follows but it's not everything it's cracked up to be especially for the growing Christopher Robin (Will Tilston).
Not everything is what it seems in the family. The boy seems like an inconvenience really to the popular Milne and Daphne. They're seen always headed out to this party or that event, or off on holiday while he and Olive are home. Growing up, he had much more of a relationship with her than his parents. Theirs was much more of mother/son then he ever had with Daphne or Milne and the scenes between Macdonald and Tilston are sweet and loving so satisfying to watch.
Margot Robbie is able to play cold yet loving at the same time and Gleeson, I mean come on, is there nothing this guy can can't do? No role he can't kill? He's flat out terrific. Alex Lawther as the adult Christopher Robin brings years of pain and sadness to the part.
Directed by Simon Curtis and written by Frank Cottrell-Boyce and Simon Vaughan, the film looks fantastic. From the set design to the cinematography, it's downright exquisite.