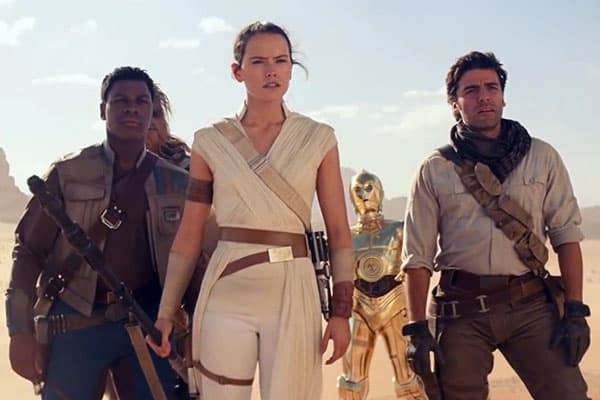 Is this really it for the Skywalker saga? Apparently so, according to the powers-that-be. And after 9 movies, it had to come to a conclusion sometime. But, is it a fitting ending? Well… I guess so?
Star Wars: The Rise of Skywalker picks up with Kylo Ren (Adam Driver, who's on a roll this year) searching for some kind of homing beacon that will lead him to the apparently undead Emperor Palpatine (Ian McDiarmid). Ren wants to kill Palpatine real good so he can become the leader of all things Sith. But wouldn't you know it, the pesky Rebellion is about to get in his way, with Rey (Daisy Ridley), Finn (John Boyega) and Poe (Oscar Isaac) making it their business to try and one-up Ren's every move.
Any more of the story would be a spoiler.
There's a lot of good in the film and a lot of not so good. It does seem to wrap up the Skywalker storyline. We find out Rey's backstory, which is kind of a fun twist.. The one and only Lando Calrissian (Billy Dee Williams) makes a cameo (yay!) to lay out some wisdom. We see some characters, specifically from episodes 4, 5 and 6 make an appearance.
What it doesn't do – so disappointingly – is give three of the most beloved characters ever put on film any sort of goodbye. C-3PO (Anthony Daniels), R2D2 and Chewbacca (Joonas Suotamo) are also-rans here. Heck, R2D2 is almost an extra! The lovable droid has barely got anything to do and he's nowhere near the ending of the film. C-3PO has a sweet, eye-misting lines but that's almost towards the middle of the film. Chewie, while he has a bigger role then his compatriots, is also missing from the main ending. These three – especially these three! – helped propel Star Wars to what it is and it's inexplicable they weren't giving a proper ending.
Director J.J. Abrams, along with writer Chris Terrio, had a monumental task placed upon their shoulders and there's no way in the world they could have pleased everyone. The film does look great and there are some terrific set pieces. The cast, particularly Oscar Isaac and Adam Driver are great. And getting the chance to see Carrie Fisher on screen for one last time does make everything worth watching.