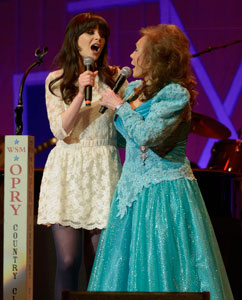 Last night, country music legend Loretta Lynn announced from the stage of the Ryman Auditorium that she chose Zooey Deschanel to portray her in an upcoming Broadway-bound stage adaptation of Coal Miner's Daughter. 
Right after that announcement, Deschanel joined the Lynn onstage for a duet of the song, "Coal Miner's Daughter."
The onstage announcement and performance echoed the 1979 Grand Ole Opry appearance where Lynn invited a young Sissy Spacek onstage to announce that she had chosen the actress to portray her in the forthcoming film. Spacek went on to win the Academy Award for her performance.
"It's a long way from Butcher Holler to Broadway in New York City. I never imagined I'd see Coal Miner's Daughter on a movie screen, and now I can't believe it's going to be on a stage for people to see," said Lynn. "I'm going to be right there in the front row. And I know Zooey is going to be great – she sings and writes her own songs just like I do, and we even have the same color eyes!"
"Loretta Lynn and her music have been inspirations for me for as long as I can remember," said Deschanel.  "She is a true legend and to be chosen to play such an iconic woman is a dream come true."
The Broadway-bound stage version of Coal Miner's Daughter will tell the story of Lynn, from her Kentucky childhood to her unlikely rise to become the First Lady of Country Music.
The creative team and dates for the production will be announced in the coming months.  The schedule will not conflict with Deschanel's show, New Girl.