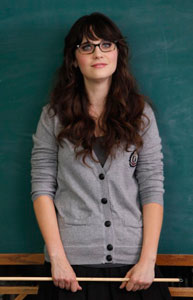 After a string of successful lead roles in films, including (500) Days of Summer, Yes Man, and Elf, it was a bit of a surprise to hear that Zooey Deschanel would be in the title role on the network television comedy series, New Girl. 
After all, you often see television stars transition from small screen to big — not the other way around. But the show and Deschanel's character Jess have been big hits with both viewers and critics, and Fox has already ordered another set of episodes, and according to Deschanel's comments to The Hollywood Reporter, there are aspects of acting for television that she prefers to the big screen — particularly having more time to "live" with a character.
Deschanel points out, "Working in TV means less free time to prepare, but that's good — that means more time on set to experiment and really get to know the characters. Jess is very goofy, silly and excitable and finds joy in a lot of things. I'm very excitable and emotional too, so I can relate to that. My approach has tended to be more intellectual, and I enjoy doing television because I can explore things every week that I wouldn't have had the runway space to do before, and exploring the physical comedy part has been really fun. I've always played characters that are sort of removed and ones you don't really get to explore emotionally; New Girl has given me a chance to really live with a character. It's been great."  Deschanel is expected to be nominee for the Outstanding Performance by a Female Actor in a Comedy Series Screen Actors Guild Award, so she has her new approach to television acting to thank for that if it turns out to be true!
New Girl airs Tuesday nights on Fox.