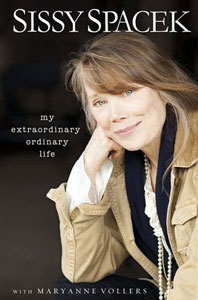 Academy Award-winning actress Sissy Spacek is ready to try her hand at something other than acting.  Her autobiography, My Extraordinary Ordinary Life, is being released this week. 
In an interview with The Wall Street Journal, Spacek talks about her long, wonderful career and how she got her start.  She said, "I sang and danced and played guitar.  Music and art came more easily to me than other things.  I captured my hometown stage at an early age.  Because I was so appreciated there in that little town, I just thought that as soon as I got into the big world, the same thing would happen.  I didn't realize the odds against me."
Of course, Spacek beat the odds and became respected in the industry for her roles in Carrie, The Coal Miner's Daughter, In the Bedroom, and last year's The Help. 
Back in the early 70s, Spacek got her start taking classes at the Actors Studio.  She said, "The irony is that I only studied there several months.  I never got into scene class.  I remember looking around saying, 'I'm much too well-adjusted to be doing this.'  I had a hard time opening up in front of the class.  But it impacted me deeply, so that when I did begin to work, putting my own life experiences into my work became the basis of everything I did.  I was just fortunate that I was in the right place at the right time.  I got to ride the wave of 70s film.  The filmmaker ruled at that time, and I was on the receiving end.  I got passed from one wonderful director to another.  I think I represented something in a generation as opposed to being some great trained actor."
Her acting technique has changed over the course of her career, especially after she received advice from Jack Lemmon to relax during her scenes.  Spacek said, "I could start to prepare right before the scene, not early that morning and wear myself out.  I've always thought of it like a railroad track.  You know the train's coming.  If you can run along and get yourself up to speed, you can grab hold of the train and jump on and it's like the scene takes you away with it.  Sometimes the train hits you and runs over you.  You have to expect that will happen sometimes."