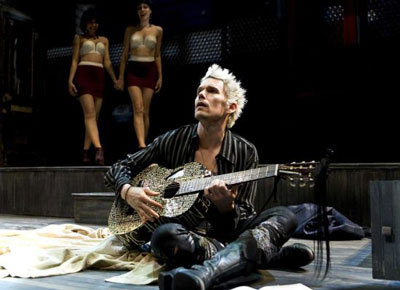 If you think that you haven't seen much of Ethan Hawke on movie screens lately, you'd be right.  However, Hawke's lower profile in film is not a case of him not being offered work, but a case of Hawke's increasing desire to concentrate on his theater work.  He currently stars in Clive at New York's Acorn Theatre alongside Zoe Kazan, who interviewed him for Gotham magazine about his passion for theater and his novels and why he doesn't put much stock in awards.
Hawke points out that for him plays provide much more artistic freedom than movies.  He explains, "It's the closest you can get to real freedom. The problem with movies is everybody wants to make money, and if they don't see an avenue for making a lot of money, they don't want to bother. Doing a crazy expressionistic play like Clive [brings out] the part of me that wishes I were more radical. When I first came to New York, you'd see Patti Smith rocking it out downtown and Eric Bogosian doing his crazy monologues…. There was all this exciting experimentation going on, and I always longed to be a part of that."
However, he admits that when growing up he was attracted to the glitz of Hollywood stardom.  He confesses, "I dreamed of being in the movies because it seemed more glamorous. When I was really young, I saw One Flew Over the Cuckoo's Nest. I didn't understand it then, but I loved it to the point where my go-to method to pull myself out of depression would be to watch One Flew Over the Cuckoo's Nest. The play thing came later because my mom loved the theater; she thought that theater actors were the real deal and that movie acting was not such a noble profession."
Hawke has also published two novels and is working on a third.  When asked how he began writing prose, he reveals, "A lot of people start writing, and they think this is too self serious, this isn't funny enough, this isn't lyrical enough…. I want it to be more like Thomas Wolfe, Alice Munro, James Baldwin. I remember the day before [my first novel] The Hottest State was published, I thought I would be killed. I read a couple bad reviews of it, and I was like, Oh, I'm really putting this out there. I just thought everybody would love it. I know it's asinine, but I generally really like people, so I project the same in return. Then I realize the world is a really scary place, everybody's not rooting for you, and everybody doesn't see your artistic growth as their number-one priority. You cannot be afraid. If you are sincere in your attempt, time is like this general with an army of thousands to prove you right. And you just have to give up superficial things in the moment."
He believes that part of the problem of audience expectations of him and his work is that he thinks people are obsessed with accolades and money.  He says, "People want to turn everything in this country into a competition. It's why they love the Super Bowl: it's clear who the winner is and who the loser is. It's why they like to announce the grosses of movies because it's a way of saying this one is number one. It's so asinine even if you look at how many forgettable, stupid movies have won the Oscars and how many mediocre performers have Oscars above their fireplace. Making a priority of your life chasing these fake carrots of money and dubious accolades, I think it's really destructive. I think it's why I found your grandfather's book [Elia Kazan: A Life] so important given that the book really graphs out a life of massive success and massive falls from grace and massive recovery. I don't really know the answer to that question, but I know you can't let publicists dictate your life. And if you do, you won't have any need for a publicist anymore because there won't be any work to publicize."
Clive runs through March 9 at the Acorn Theatre (410 West 42nd Street).