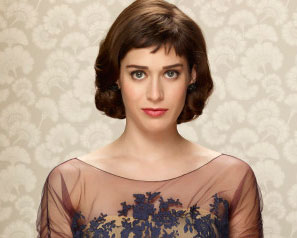 With the long-running series Dexter coming to a close, Showtime was looking for a new series to capture TV audiences on Sunday nights. The network's freshman drama Masters of Sex is looking to fill that void.
The show stars Lizzy Caplan as Virginia Johnson, the sex researcher who worked with Williams Masters. Together, the duo helped create new ways of thinking about sexuality.
With her co-star Michael Sheen, the 31-year-old actress has to reenact some of the sex research that made Masters and Johnson revolutionaries in their field. Caplan revealed how she had to let her guard down with him. Read more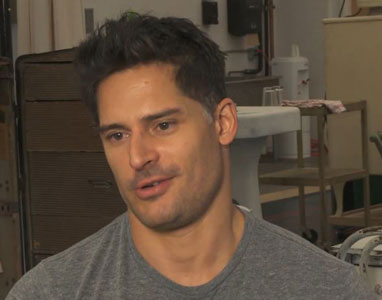 For True Blood fans, Joe Manganiello is known for his portrayal of Alcide Heveaux, the leader of a werewolf pack on the HBO show. The primal role was the big break in his career, but he's using his hiatus from the show to go back to where he started, the theatre.
The 36-year-old classically trained actor is spending part of his fall at New Haven's Yale Repertory Theatre playing Stanley Kowalski in A Streetcar Named Desire. He talked with The Courant about the iconic role and how his commanding physique got him cast without auditioning. Read more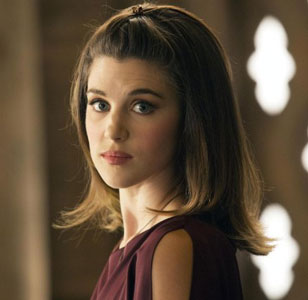 It's been a dramatic season on HBO's True Blood, probably even bigger than fans initially anticipated. They were warned ahead of time that one main character was going to see their demise, but it turns out the vampire death clock is on overdrive.
In a recent interview with Vulture, actress Lucy Griffiths talked about the end of her character Nora and what it was like to shoot that final episode. 
Fans were treated to a fairly long and graphic scene for Nora's end. Griffiths revealed the challenges of making that scene as gory as it was.
She shared, "It was quite weird, because I had to have a tube next to my head and they had to pump all the blood through it, to make it look like I was melting, before they added the CGI. So I was covered in blood, covered head to toe, and it was so cold. It feels quite strange! The vein effects right before that were part transfers and makeup and postproduction." Read more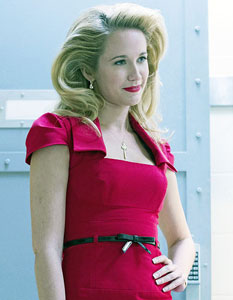 Anna Camp usually plays bitchy blonds.  But it is a little surprising that she got her start playing a drug dealer—even if it was just in a fourth grade DARE play.
"I remember coming home and telling my mom when I got cast, and then being like, 'What do I wear?  What does a fourth-grader wear to play a drug-dealer?'" she jokingly recalled in an interview with The New York Post.
Camp stuck with the theme, and auditioned for roles on shows like Law and Order.  "I used to go and have to walk down Pier 62 all the time to audition for drug dealers," she remembered.  "And I was like, 'I'm never going to get this,' and then I'd have flashbacks to my fourth-grade DARE play." Read more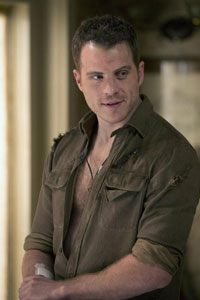 Rob Kazinsky is the newest cast member of the HBO vampire drama, True Blood.  The British actor hasn't had any trouble becoming part of the team, who have worked together for six seasons.
"It's been wonderful.  You meet these people and work with these kind of people and you don't expect them all to actually be good people, but they are all good people," he said in an interview with The Hollywood Reporter.  "There usually has got to be one bad egg.  I usually do a lot of my stuff with Anna [Paquin], and her and Stephen [Moyer] could not be more accommodating, more generous, more giving.  They are so intolerant of ego, like if you are getting naked, you are damn well getting naked, and they make it really easy for you to do good work.  They have been wonderful to me." Read more
It's hard to believe that vampire Bill Compton would love nothing more than to star in musicals.  But in fact, True Blood's Stephen Moyer will soon be appearing at the Hollywood Bowl in a production of Chicago.
The actor was cast in the show because conductor Rob Fisher (who led the 1996 Broadway revival) is a huge fan of Moyer's HBO show.  Moyer appeared in a scene in True Blood playing the piano, and "I think [Fisher] got it into his mind that I would play Billy Flynn."
It might be surprising to some that Moyer has a musical theater background.  "I did something like 62 musicals by the time I was 18," he said in an interview with The Los Angeles Times.  "I had only done musicals [up to the point where I started a theater company.]  Growing up, there was nowhere near me to do plays.  So I set up my own theater company with friends and started directing.  I ran that for quite awhile." Read more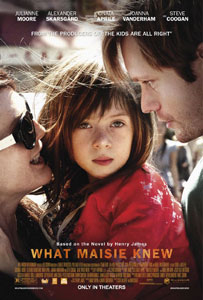 What Maisie Knew is a horrible title for a movie about families and what, ultimately, a family actually is.
Going into the film, I had no idea what the film was about but going from the title, I expected something about a murder and how a child witnessed it.
(Yes, I know this is a modern re-telling of a Henry James story. It's still a horrible title).
Boy was I wrong but in a pleasantly surprised way. And that's thanks to an incredible performance by Onata Aprile as Maisie.
Directed by Scott McGehee and David Siegel, Maisie (Aprile) is the child of two of the most self-centered people in the world. Played by Steve Coogan and Julianne Moore, they definitely win the prize for 'Year's Worst Parents.' In a constant state or arguments, Moore's aging rock star of a mom Susanna, finally decides enough is enough, and kicks him out. This sets off a custody battle where, eventually, Coogan's Beale wins, taking with him Maisie and the family nanny, Margo (Joanna Vanderham).
Both parents quickly marry; Beale woos the nanny with travel and her love of Maisie and Susanna to a local bartender, Lincoln (Alexander Skarsgard). Susanna's reasoning for the quickie marriage? "I married him for you," she tells Maisie. So he can watch her during the day. Which is a perfect reason to get married. Read more
Alexander Skarsgard is using his time away from playing Eric Northman on True Blood wisely, by playing diverse parts in several movies.
"It's not like, 'Hey look at me I'm versatile," he insisted in an interview with The New York Post.  "It's just creatively to stay true to myself."
The Swedish actor followed up his role in the indie drama What Maisie Knew with a part in the thriller Disconnect.  The part called for the normally buff actor to look a little softer.  "If I feel that a guy that I'm about to play looks a specific way, I have to stay true to that," he said.  "I can't be like, 'Hmm, I'm a sex symbol, so what are the fans going to say?'  It's not like, 'Oh, look at me!  I can actually play ugly!'  F—k that." Read more
Despite being on HBO's True Blood for more than six seasons, Alexander Skarsgard is still enjoying his time playing vampire, Eric Northman.
"I think the writers are so good on the show and they keep it interesting for us, as actors, hopefully as well as for the audience," he said in an interview with Collider.  "But, it doesn't feel redundant.  I don't feel like we're doing the same thing, over and over again.  Every season is unique and I get to try new things.  They put Eric in situations and with characters that are new and interesting.  I keep learning new things about him, and I feel that he keeps on growing, as a character.  The day that I don't feel that any longer is the day to move on, but it's still fun."
Skarsgard  is continually surprised by the fact that he gets scripts so akin to his role on True Blood, claiming that he would hate to do just a variation on what he's already been doing.  "I get a lot of scripts sent my way that are very similar, where they want me to play, basically, Eric Northman," he said.  "Maybe without fangs, but it's the same character.  What's the incentive?  Why would I want to do that?  If I just spent six months shooting a show, doing that, I want to do Lincoln in What Maisie Knew or Benji in The East or Derek in Disconnect—something that's different.  It hasn't been about, 'Oh, I've gotta show people that I'm versatile.'  That's not it.  For me, creatively, I'd suffocate if I played the same thing, over and over again.  I want those challenges.  I want to sit down with a director and be like, 'I've never done this before, but it's going to be exciting.  It's scary, but really thrilling, so let's do it!'" Read more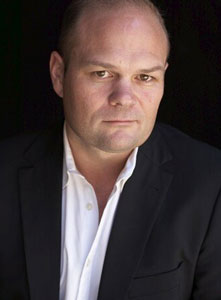 Chris Bauer is ready to take some time away from fighting vampires on HBO's True Blood. 
The actor, who plays Sheriff Andy Bellefleur, will be appearing in a New York stage production of What Rhymes with America starting in December.
"I've told my children to think of this as though I'm going for a life-saving operation," Bauer told Timesleader.com.  "The opportunity to work on a play from the ground up in my favorite theater with all new people, makes me feel like there's a real potential for reinvigoration."
Since Bauer hasn't done theater since acting in 2010 in David Mamet's Romance, the actor noted that he has to work on getting back into the rigors of doing stage work.  "There's a level of fitness that's required to give an audience what they deserve.  You just do not get the strength in those muscles on television."