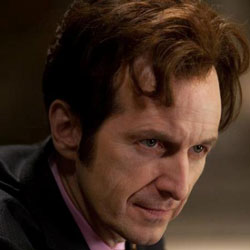 Denis O'Hare usually spends his time on True Blood completely covered in blood.  He plays (played?) the entirely unhinged vampire Russell Edgington, who is all about killing.  So it might come as a shock to some that the actor is actually spending his off-screen time singing his heart out in a musical.
O'Hare is currently starring in Into the Woods at the Delacorte Theater in New York.  "It's definitely tricky," he told The Wall Street Journal.  "What the person in the front row sees is very different from what the person in the last row sees.  Theater acting is always a game of micro and macro.  So on the one hand, if you're mugging for the back seats, it's a horrifying performance up close," he said. "If you're being subtle upfront, back there they see nothing.  In a strange way, what I tend to do and what a lot of actors do is you express with your body while also expressing with your face.  I let my body be bigger and my face be smaller, to put it simply.  I'm keeping my emotions small but I'm letting my body express them."
"To give you a good example, if you think about painting, in Picasso's Blue Period there's a great painting called 'The Old Guitarist.'  It just shows this guy with a very, very exaggeratedly bent neck leaning over a guitar.  It's a very emotional painting because you get that sense of inward thinking, almost grieving.  I think of any great emotional painting, I'm thinking of medieval paintings more, where they use the body to express something.  They literally will have the body curve in a way.  As actors in theater, we often do that."
The same quality of versatility is also needed when transitioning from stage to screen.  "When you read a stage script versus a film script, you read them very differently," O'Hare said.  "Reading a play, all the information is verbal, the characters tell you who they are, other people tell you who they are.  In film it's not verbal, it's an actual imagination.  You have to really read the script and say all right, he's sitting in a diner, it's a rainy afternoon, he gets a phone call, he doesn't pick up, and then he leaves.  Next scene, he walks in, he walks his dog, checks his watch, it's 4:00, he closes his eyes, gets up and walks his dog.  What does this mean?  You get a feeling for a character in a very different way in a film script, and that feeling can be very attractive.  It's more of an intellectual process I think in theater sometimes.  And in theater you rehearse and you rehearse, you hammer it out and you perfect.  In film, it's a lot more instinctual."
Despite his success in musicals, O'Hare doesn't think all actors must be able to sing and dance.  "Those of us who are lucky enough to have some talent in singing, it's great to go back and forth," he said.  "In some cities, I know like Chicago where I was, it was very strictly bisected.  If you were a straight actor that's all you did.  If you were a musical comedy actor, that's all you did.  In New York there's a lot more fluidity.  I think of someone like Raul Esparza, Michael Cerveris, Donna Murphy.  You also have actors who don't go back and forth between plays and musicals.  Like anything, the more options you have, the better."
True Blood airs on HBO, Sundays at 9 p.m.