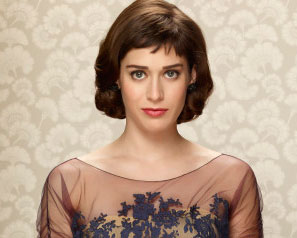 With the long-running series Dexter coming to a close, Showtime was looking for a new series to capture TV audiences on Sunday nights. The network's freshman drama Masters of Sex is looking to fill that void.
The show stars Lizzy Caplan as Virginia Johnson, the sex researcher who worked with Williams Masters. Together, the duo helped create new ways of thinking about sexuality.
With her co-star Michael Sheen, the 31-year-old actress has to reenact some of the sex research that made Masters and Johnson revolutionaries in their field. Caplan revealed how she had to let her guard down with him.
"The intimidation factor went away fairly quickly. The truth is actors spend a lot of time between sets just really trying to make each other laugh. Michael's as good as any of the comedy morons that I know and love," explained the Mean Girls actress. "We've become extremely close friends over the course of this series, and I'm super, super grateful for that because I honestly can't imagine a more disgusting thing to have to do every day than go to work on this show with somebody that I really did not like."
This isn't Caplan's first time dealing with nudity as an actress though. She had a six-episode role on True Blood where she spent some time naked.
She revealed, "It was scary for True Blood because I had never done it before. But as soon as the first scene was over, it was oddly never scary again. It felt very empowering. One would think that you'd feel maybe typically objectified as a woman, but it didn't feel that way. It was sort of like, 'F**k everybody. I'm taking my clothes off. I'm the one who can do that. Can you f*****g do that?' That's been the only other time I've done nudity onscreen. Unfortunately, with the Internet, it feels like I do it all the time. Obviously, that's going to be a thing again."
While she might be used to the idea of taking her clothes off on set, it doesn't get any easier in the court of public opinion. However, the Showtime star has figured out a way to handle it.
"Now, the Internet of it all … it just is what it is. I find by being an actress, you're signing up for a life of being picked apart by total strangers. Offering up your naked body is one thing, but it's just as baseless if people are talking about your performances," she shared. "So the nudity was something I thought about, but I didn't think about it very long, and at no point was it going to prevent me from taking this job, because I believed in this show, and I really, really, really wanted to play this character. And if there were any moments of hesitation for me, all I needed to do is think about the fact that the Virginia [Johnson] did it for real in the fifties, and I'm doing it on TV. I have a much easier job."
Masters of Sex premiered on Showtime on Sunday, Sept. 29.
Via Vulture