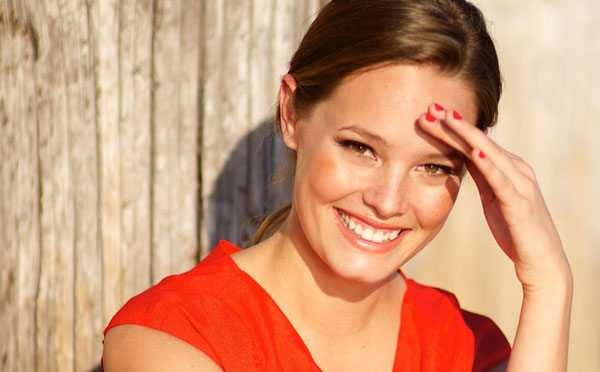 It's True Blood's final season (nooooo!) and if you've been watching like I have, then you'll know that the show isn't going out with a whimper. Long time characters are getting killed and everything is going to hell in 'ole Bon Temps. Which is giving the audience one heck of a ride.
On that ride is Bailey Noble. Bailey was introduced last season as, Adilyn, one of Andy Bellefluer's (Chris Bauer) flock of faerie daughters. She was quickly upped to a recurring role and when the show premiered this season, she was added as a series regular.  Bailey is great in the role and plays innocence perfectly, which is a good balance to all of the characters on True Blood.
I talked to Bailey recently about her audition, how she found out she was going to be a series regular, moving from Pennsylvania to LA and more!
Follow Bailey on Twitter!
True Blood airs on Sunday nights at 9pm on HBO
For the full interview, click the audio link above or download it from iTunes.
What was your audition like for the show?
Bailey Noble: My agent sent me out for the audition and I went and I knew that night that I was on hold for a guest star and then… but it wasn't until about 2 months later that I knew for sure I had a guest spot on the show. And even after that, I had to audition again with the other girls, the other fairy sisters to see who would become recurring.
So, it was an interesting process to have to go back in once I knew I had a role, but then to get a bigger role. And then I didn't know for certain until I was driving to the first table read they called me and said, "You'll be recurring."
Oh, nice.
Bailey Noble: Yeah.
Were you originally reading for the part you have now? Or was it just kind of a mish mash of a character?
Bailey Noble: It was a mish mash. We all knew that we for sure had a guest spot, but we didn't know which one of us would be staying.
That's awesome. When did you know that season that you were gonna become a series regular?
Bailey Noble: I knew a couple of months after season 6 ended. My reps called and… there was a possibility of becoming a series regular, but we still didn't know. And then they called and said, "We're gonna make you a regular," and that was amazing.
That's gotta be the best call ever.
Bailey Noble: It was. It was the best.
You have these powers, or your character. Maybe you do, I'm not sure. I don't really know you.
Bailey Noble: I do. I think I do.
That's why you got the part. But when you auditioned, did you have to do something to show the casting directors how you'd play those powers?
Bailey Noble: No, my first audition I didn't know that I was gonna be a fairy. Because I think they were so under wraps and so secretive that they wrote this character as just a teenage girl. And, actually, it was funny, my audition scene I had to be really drunk. So that was my audition scene. I had to be drunk and yelling and, yeah, I didn't know that I was going to be a fairy until a few months later.
How was your first day on set?
Bailey Noble: It was incredible. Everybody was so welcoming from day one to me. The cast and the crew are so incredible. I felt like part of the family right away.
I'm an actor too, so for me it's kind of 50/50 because you walk on sets and everybody's been friends for years and they have their cliques and stuff and then they're nice but you're not sort of included. And other times you're just automatically one of the family.
Bailey Noble: Yeah, yeah. I was really, really lucky in that because I know I've been on sets where it's like, "Oh, this is the vibe," and you've got to feel it out. But no, right away everybody was so nice.
You're a series regular but I would imagine that with such a huge cast, you're not working all that much.
Bailey Noble: Yeah, yeah. Sometimes I'll have a month off because, yeah, this season I had a month off and then it's crazy because when the work comes you're working like crazy and then it gets still. And then you work like crazy. Yeah, because the cast is so big.
Are you able to work on something else? When you had this month off?
Bailey Noble: I can audition. HBO kind of has to approve everything. I'm allowed to do certain guest stars if my schedule permits I can do it.
I would imagine that you've gotta be auditioning kinda like crazy now.
Bailey Noble: A lot of auditions are coming in. Yeah.
Are you guys still filming?
Bailey Noble: We've got a little bit left to film and then that's it.
Do you know everything that's gonna happen this season? Do you guys do table reads?
Bailey Noble: Yeah, we do. We do. We had our final table read a couple of weeks ago. So I do know what happens.
I'll just put it on mute and you can tell me.
Bailey Noble: Yeah. Yeah right.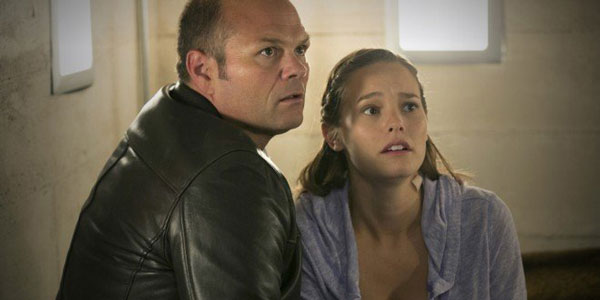 Wow, so how was that final table read?
Bailey Noble: It was really… yeah. I mean, it was kind of a celebration to all come together for one last table read like that, but it was also really emotional. At least, I mean, for a lot of the other members of the cast too but for me, I hadn't really thought too much about it ending, so just being there, emotions came up that I wasn't expecting and it was like, "Wow, this is really coming to an end. The end of an era."
Where are you originally from?
Bailey Noble: I'm from Bethlehem, Pennsylvania.
Did you always wanna be an actress?
Bailey Noble: Yeah. I did it when I was younger because my mom was really into it so she would drag me to, you know, she had something that they needed a kid for, she'd bring me.
So I was… I kind of knew about it, but I didn't take it seriously until I was 18 and I went to college for musical theatre for a year at DeSales University and then after that I just decided that I wanted to do work and take it seriously.
And so I called my acting coach in New York, Diane Harden, and I asked her what advice she had for me and she said, "Come out to LA." So she set up meetings for me and before I knew it I was… I moved out to LA the next month.
That's quick.
Bailey Noble: Yeah, yeah. So I finished my freshman year and basically moved out to LA.
Nice. So how did that first year or two go?
Bailey Noble: You know, the first couple of months were a huge transition. I think… I didn't think much about moving out so when I got out here, I was like, "Woah. This is real, I'm here. Oh my gosh." It was all new. But I was lucky, really lucky enough to book one of my first jobs only a couple of months after being out here. So the industry has treated me well from the beginning. But it's always like you have to meet friends and that takes a while.
How prepared were you as soon as you came out here?
Bailey Noble: I had an agent and a manager before I moved out here. I came out to LA to get meetings and that worked out. Then I moved out and I knew my old neighbors growing up, they live out in California. So I had them, but really nobody else that I knew.
That's awesome. It takes so much guts and courage to just make this huge leap like that.
Bailey Noble: It's crazy. Yeah, I think if I thought about it too much maybe I wouldn't have done it. But I didn't even think about it.
If you think about it you would probably still be in Pennsylvania. But, yeah, you've just gotta turn something off in your brain and do it.
Bailey Noble: Yeah, exactly.
Have you had any nightmare auditions?
Bailey Noble: Nightmare auditions. I think one time I went out for this kid's show where you had to sing and dance and do all that kind of stuff and I… it was pretty much when I first moved out here. And I can sing, but I don't really prefer to sing at auditions. So it just was a trainwreck. And he knew that I was bombing, I knew that I was bombing, and I just… it was a mess.