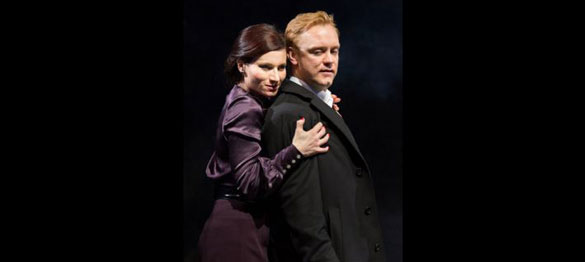 One of an actor's most important instruments in his career is his voice. However, that instrument can give out from time to time, just ask Sam Troughton.
He was in the middle of a preview performance of the Sam Mendes-directed King Lear at the National Theatre in London when he lost his voice mid-sentence. Troughton was playing Edmund, the main antagonist in the Shakespeare play, who resolves to get rid of his father and brother in order to become Earl of Gloucester.
Simon Russell Beale, who plays King Lear in the show, told Radio 4, "It must have been terrifying. Apparently his voice just completely gave out." Read more

Based on how much Shakespeare that was being done in New York in 2013, one would never suspect that the Bard has been dead for nearly four hundred years.  While Shakespeare in the Park is an annual summer tradition in New York, this year's Love's Labor Lost was just the tip of the iceberg for what has to have been the most Shakespeare-heavy year in New York in recent memory.  Naturally, not all the productions were successful or well-received, but anyone who has any taste for Shakespeare could have found something to rave about on stage in New York in 2013. Read more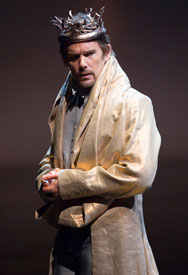 Ethan Hawke is an actor who has never shied away from the theatre. This season he's tackling a big role, playing the title role in Macbeth on Broadway at the Vivian Beaumont Theater at Lincoln Center.
The Academy Award-nominated actor is taking an interesting approach to the role though. Instead of staying away from watching other thespians play the role, he spent time studying their portrayals.
Hawke said, "I decided, 'I'm going to watch 'em all.' All summer I did this. I thought if I had one in my head too much I might imitate it. So I inundated myself with it. I can't even remember what anybody did."
The Training Day star viewed some pretty impressive performances, too. From Sir Ian McKellen to Sean Connery to animated versions of the William Shakespeare play, Hawke was ready to take on the challenge. Read more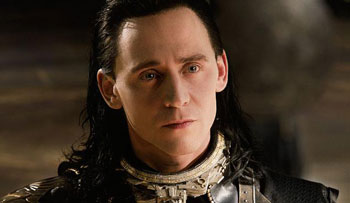 While it's hard to argue against Clark Gregg's Agent Phil Coulson being the unexpected breakout character of the Marvel Cinematic Universe — the guy went from being a background character in Iron Man to the lead role in a television series — a close second has to be Tom Hiddleston's Loki. 
Hiddleston's portrayal of the shape-shifting trickster god Loki in Thor and The Avengers has been embraced by audiences so strongly that it has threatened to overshadow the character's heroic brother Thor.  What's most surprising about it is that no one — not even Hiddleston himself — would have thought of the actor as having supervillain potential before Thor.  In a conversation with The New York Times, he speaks about his surprising success and his acting roots. Read more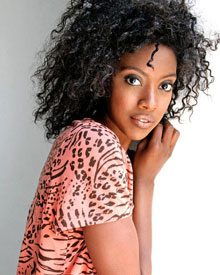 For a long time the only chance someone of African descent had of starring in a Shakespeare tragedy was the title role of Othello, and even that was off-limits when the role was played (as it often was) by a white actor in blackface. 
Not only has that thankfully changed, but Broadway is currently seeing its first interracial Romeo and Juliet with Orlando Bloom as Romeo and Condola Rashad as Juliet.  Condola is the daughter of The Cosby Show actress Phylicia Rashad and has already had roles on Broadway, film and television since she begin acting in 2009. 
She spoke to NPR about the relationship actors of African descent have with Shakespeare and what sets her production of the well-known play apart from centuries of others. Read more
You're reading a website named Daily Actor, so I think it's a fair assumption that you like Shakespeare.  Because of that, you'll probably agree with Sir Ben Kingsley's assessment that the best way to keep Shakespeare's work relevant is to keep it as what it was always meant to be: theater, not literature. He gives his thoughts on how Shakespeare should be taught to children to the London Evening Standard.
Kingsley is adamant that Shakespeare's works should not be viewed as simply historical, saying, "I think we must be very, very careful not to relegate Shakespeare to the past and dismiss him as obsolete."
He recalls an experience that proved to him that teaching the text of Shakespeare and reading it isn't the same as seeing it. He explains, "After leaving the Royal Shakespeare Company and before I did Gandhi [in 1982], I had the privilege of visiting schools in America with a group of Shakespearean actors. And instead of bashing their way through the text, we walked into the classroom and we performed scenes in the classroom for them. The pupils were slapping their hands on their foreheads and saying, 'Wow — that's what he meant!' Read more
Listen to that voice and that command he has while reading.
Recorded at Air Studios in London, Tom Hiddleston reads Shakespeare's Sonnet 18, 'Shall I compare thee to a summer's day' from The Love Book app.
The Love Book interactive app has a selection of poems, quotes, short stories and love letters all inspired by that most noble (but troublesome) theme of love. Other readers on the app are Helena Bonham Carter reading from Harry Potter, Damian Lewis and Hiddleston also reading some ee cummings works.
Check it out below! Read more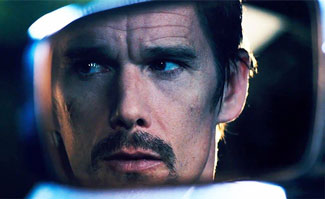 Actor Ethan Hawke is on a roll. He's rolling into theaters today with his new film Getaway with co-star Selena Gomez. He's also coming off of two big box office hits, 2012′s Sinister and this summer's The Purge.
He talked to Reuters about the film and what it was like to act in a confined space, a race car.
"What's fun about this movie is that in any given take, there were 12 cameras mounted on this car to get all these crazy angles, and it's something I've never done before. … It's a hard balance inside any action movie, to try to bring any authenticity of emotion and human behavior to these outlandish circumstances. One thing I enjoyed about the simplicity of being stuck in this car, it let Selena and I have fun," said Hawke. Read more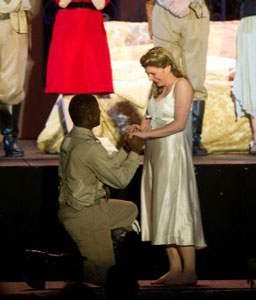 While it wasn't Romeo and Juliet, Shakespeare certainly played a significant role for two actors at the end of Othello. Instead of a tragedy, they found love.
Kevin Thompson, who played Cassio in the show, proposed to his girlfriend of four years, Julia Maggiola. The actress was also involved in the Stamford, Connecticut production at Curtain Call's Shakespeare on the Green. She played Desdemona in the show.
After the final curtain call, Thompson brought his girlfriend downstage and got down on one knee to propose.
He said, "Four years ago, here at Curtain Call, on this very stage, I fell in love with the most beautiful, incredible woman I ever met, and I've been the happiest man in the world." Read more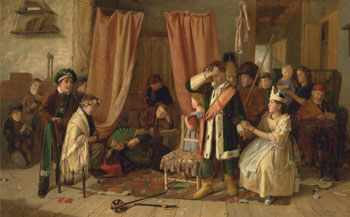 History has shown that child actors on film and television often face tremendous "growing pains," with many of them spiraling into drug and alcohol abuse and falling prey (in a variety of terrible ways) to older people that they trust.  But according to one academic, child actors of today have it easy compared to child actors in the Elizabethan era.
Dr. Bart van Es of the University of Oxford says that child actors in the Elizabethan era underwent "systematic exploitation and abuse."  By studying court documents, Dr. van Es discovered that children were picked up off the streets and made to perform by "violence and force" (including whipping). Read more