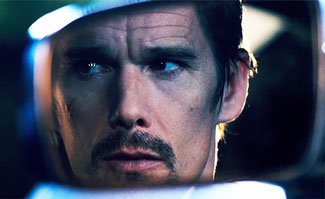 Actor Ethan Hawke is on a roll. He's rolling into theaters today with his new film Getaway with co-star Selena Gomez. He's also coming off of two big box office hits, 2012's Sinister and this summer's The Purge.
He talked to Reuters about the film and what it was like to act in a confined space, a race car.
"What's fun about this movie is that in any given take, there were 12 cameras mounted on this car to get all these crazy angles, and it's something I've never done before. … It's a hard balance inside any action movie, to try to bring any authenticity of emotion and human behavior to these outlandish circumstances. One thing I enjoyed about the simplicity of being stuck in this car, it let Selena and I have fun," said Hawke.
Another series of films that have marked his career are the Richard Linklater films that follow a couple through different decades. He's starred in three films with actress Julie Delpy, Before Sunrise, Before Sunset and Before Midnight. The movies have captured a time period in his 20s, 30s and 40s.
The 42-year-old actor revealed, "It's a very strange feeling, it really is. These aren't just movies to me – I co-wrote them, so much of those movies are so unique to issues that Julie (Delpy) and I are both interested in. Having people relate to them is such a wonderful feeling; it's the reason why I wanted to be an actor."
However, the father-of-four isn't resting on his laurels after two box office hits. He's getting back to the stage this year with a little Shakespeare to mix it up. In fact, he's checking off one of his dream roles on his bucket list.
He said, "I'm about to start rehearsals for Macbeth at Lincoln Center (in New York). It's something I've longed to do my whole life, to do one of the big Shakespeares in a really serious production."
With such a diversity of roles, Hawke is definitely hitting his stride.