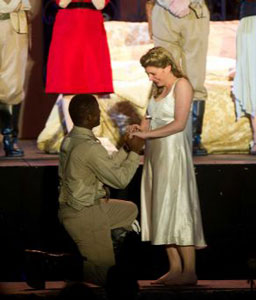 While it wasn't Romeo and Juliet, Shakespeare certainly played a significant role for two actors at the end of Othello. Instead of a tragedy, they found love.
Kevin Thompson, who played Cassio in the show, proposed to his girlfriend of four years, Julia Maggiola. The actress was also involved in the Stamford, Connecticut production at Curtain Call's Shakespeare on the Green. She played Desdemona in the show.
After the final curtain call, Thompson brought his girlfriend downstage and got down on one knee to propose.
He said, "Four years ago, here at Curtain Call, on this very stage, I fell in love with the most beautiful, incredible woman I ever met, and I've been the happiest man in the world."
According to the Stamford Advocate, Maggiola was downright breathless over what was about to happen.
Thompson continued, "Baby, I love you and I want to spend the rest of my life with you. So Julia Maggiola, will you marry me?"
Of course, tears and cheers ensued from the actors onstage and the audience members. The bride-to-be responded with an enthusiastic "yes" while her fiancé slipped a diamond ring on her finger.
The cast surrounded the couple to congratulate them while an audience member came over to give Thompson a celebratory fist bump. Who knew a tragic Shakespeare play would end on such a high note?
Maggiola was surprised by the entire event. She told the paper, "I had no idea he was going to do this."
Getting the thumbs-up from your future wife is always a good sign of what is to come for the young couple.
Maggiola summed up, "It was awesome. This was where we met, so it was perfect, just like him."