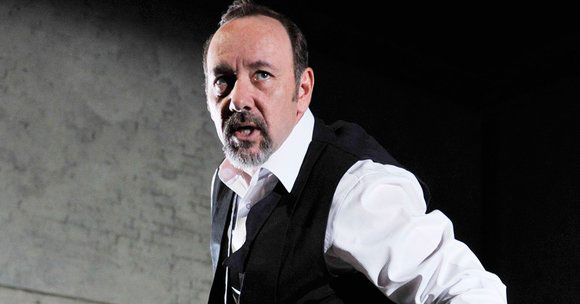 Kevin Spacey is the consummate actor. He has two Oscars, one for The Usual Suspects and one for American Beauty. He's currently starring in Netflix's original series House of Cards and now, he's showing off his self-produced documentary, Now: In the Wings on a World Stage. The film showcases his 10-month, 12-venue trans-Atlantic tour of Shakespeare's Richard III.
When asked by the Cleveland Plain Dealer why he took on such a challenge, not only with the play, but the documentary, Spacey responded, "I'm f—-n' nuts! Whaddaya think?"
A bit of insanity was necessary for the such a role because it is "the second-longest role in Shakespeare's canon."
He explained how he mapped out his physical and mental health during Richard III, "How do I map out physically how to sustain and survive 10 months doing this play? Because every actor I talked to who's played Richard simply said to me at one point in the conversation, 'Be careful.' And I was like, 'Be careful? What do they mean, be careful?' [What they meant was,] 'I threw my back out, I threw my neck out, my leg get screwed up, my knee was f—-d, my ankle, I fell on it.' So I was like, 'Oh, s–t.'
Spacey didn't do it alone though. He said, "I managed to make choices – with the help of incredible therapists and people who work with sports injuries – that helped me get through each performance rather than make it more difficult.
My leg was in this big sort of clamp . . . a brace that did nothing. It was like putting a glove on. I was up on my toe and crouching [but] I was in absolute control. I could move like a spider."
The Netflix star has since recovered and he's about to star in the one-man show, Clarence Darrow, at the Old Vic Theatre in London. The show runs May 28-June 15.