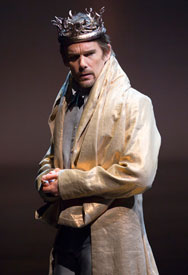 Ethan Hawke is an actor who has never shied away from the theatre. This season he's tackling a big role, playing the title role in Macbeth on Broadway at the Vivian Beaumont Theater at Lincoln Center.
The Academy Award-nominated actor is taking an interesting approach to the role though. Instead of staying away from watching other thespians play the role, he spent time studying their portrayals.
Hawke said, "I decided, 'I'm going to watch 'em all.' All summer I did this. I thought if I had one in my head too much I might imitate it. So I inundated myself with it. I can't even remember what anybody did."
The Training Day star viewed some pretty impressive performances, too. From Sir Ian McKellen to Sean Connery to animated versions of the William Shakespeare play, Hawke was ready to take on the challenge.
"I've been learning on my feet in front of people since I was 18," he said. "Early on I realized that if I was scared of failure, I wasn't going to learn anything."
However, he does know his limitations as an actor. Audiences should expect his interpretation of the role, not a classically-trained version of the iconic character.
He explained, "You can't fake 25 years at the Royal Shakespeare Company. And I don't have that. I might have something else but I don't have that. But that doesn't mean I shouldn't give myself the opportunity to try."
The 43-year-old actor's take on the ambitious villain comes from his own experiences.
"I've tried to make it as personal as possible. That's always what I try to do with anything. Try to make those demons – those witches – as real as possible. This play is a huge meditation on the ego run wild," shared Hawke.
While the reviews that have rolled in have been mixed, the Before Midnight star isn't immune to his critics.
He revealed, "I care immensely. But I don't control it and I have to get super zen about it. I can't allow anyone writing about the theater to take away from me whether or not this is a good idea to do."
Via AP News
For tickets and show info, click here