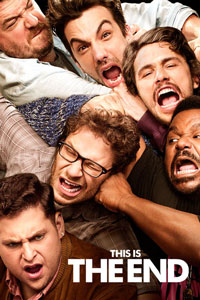 This is certainly a unique way to promote your film…
Seth Rogen, James Franco, Danny McBride, and Jay Baruchel are four of the many, many celebrities who are playing themselves in the apocalypse comedy This Is The End, which was co-written and co-directed by Rogen.  On the movie's Facebook page, the above four revealed that they would post videos of themselves doing the following demeaning tasks if they receive a certain number of "Likes" on Facebook:
500,000 Likes = McBride waxes Rogen's back
650,000 Likes = Baruchel and McBride will share a spaghetti Lady and the Tramp style
800,000 Likes = Rogen will paint Franco in the nude Read more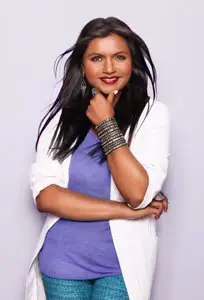 Mindy Kaling's The Mindy Project is back on the air tonight and Thursday and to get the word out, she did a press call to chat about the show.
I'm a big fan of Mindy's and talking to her is always a treat. She seems to work non-stop and has a bunch of projects in the works. In fact, the day after The Mindy Project wrapped, she was back at her laptop working on a follow up to her debut book, Is Everyone Hanging Out Without Me? (And Other Concerns).
In the interview, she talks about the show, working with guest star Seth Rogen, where her inspiration came from, The Office finale and how a picture of Liz Lemon (Tina Fey) ended up in The Mindy Project.
The Mindy Project airs at 9:30 on Tuesday (and Thursday) on FOX
You have such a great dynamic with all of the cast on the show, but you have a cuter dynamic sometimes with your brother Rishi.  Is that based on your real experiences of your family?
Mindy Kaling: Well, I have an older brother who is very different than the character Rishi on the show, but I just love Utkarsh who plays the character.  I have a very like, we immediately slipped into like a very big sister/little brother relationship with him and I like how his character…he just always calls me "woman."  He's like, "Woman, what are you doing?" which I find very funny and appealing. Read more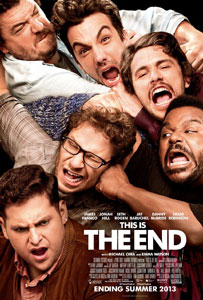 This is the End, which stars every funny person working in film and TV today (Seth Rogen, Danny McBride, Craig Robinson, James Franco, Jonah Hill, Michael Cera, Mindy Kaling, Aziz Ansari, Kevin Hart, Christopher Mintz-Plasse and Paul Rudd) comes out in June and from the clips shown at WonderCon this weekend, it looks hilarious. 
The panel, which had writer/director and star Rogen (in Wolverine costume), Robinson, McBride and co-writer/director Evan Goldberg (in an S&M outfit left over from AdultCon), was pretty damn funny, especially if you like their type of humor. Which I do.
I shot the video with my phone so the quality stinks but check it out if you have time. I also posted the newest red-band trailer.
Check them out below! Read more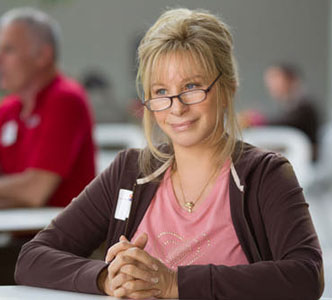 It's not easy to get Babs to agree to make a new film.  Despite her appearances in the Meet the Parents series, Barbra Streisand chooses her projects carefully.  And she's the first one to admit that she might have made some diva-like requests before she agreed to star in the new film, The Guilt Trip.
Streisand admitted to NBC New York that she was ready to act again, saying, "It was time to challenge myself again, you know?  Of course, I made it very difficult for them to hire me because I kept wanting an out some way.  So I made it really hard."
The main reason Streisand didn't want to sign on for another project was the distance she'd have to travel to shoot the film.  "I really don't want to go—I never do this normally, right?—I really don't want to schlep to Paramount.  It's two hours each way," the Oscar-winner said.  "So would you rent a warehouse and build the sets in the Valley no more than 45 minutes from my house?  And they said yes." Read more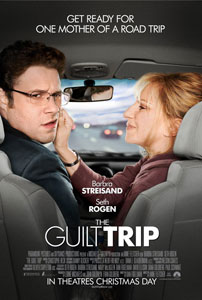 Starring: Barbra Streisand, Seth Rogen, Yvonne Strahovski, Colin Hanks
Synopsis: Andy Brewster is about to embark on the road trip of a lifetime, and who better to accompany him than his overbearing mother Joyce. After deciding to start his adventure with a quick visit at mom's, Andy is guilted into bringing her along for the ride. Across 3,000 miles of ever-changing landscape, he is constantly aggravated by her antics, but over time he comes to realize that their lives have more in common than he originally thought. His mother's advice might end up being exactly what he needs.
In Theaters: December 25th Read more
Podcast: Play in new window | Download (Duration: 17:33 — 12.1MB)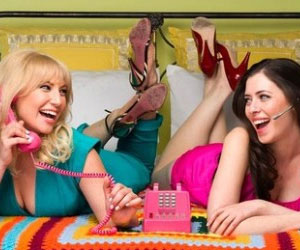 For a Good Time Call… is a raunchy, crude and at times hilarious film that is also one of the sweetest movies about friendship that I've seen in a while.
The story follows former college frenemies Lauren and Katie, who, in order to stay in Manhattan move into together. Once there, the two join forces and start a phone sex business together.
The two stars, Ari Graynor and Lauren Miller (who also co-wrote the film with Katie Anne Naylon), have great on-screen chemistry and their scenes together just make you want to see more of them, especially towards the end of the film.
Lauren (who is married to Seth Rogen) and Katie wrote the script from their real life experience as college roommates and when they were searching for the perfect person to portray Katie's alter-ego, they found the Graynor, who told me that the pair sent her a "beautiful love letter asking me to come on" to the film.
I talked to the three of them about writing the film, the 16-day shoot, bad auditions and their advice to actors. Read more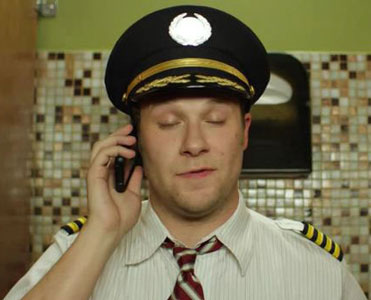 Seth Rogen has probably set the bar of good taste back a few dozen yards in his films, but believe it or not even he has limits.  He actually ended up crossing one of those lines in his cameo in For a Good Time Call…, but as he tells New York he did it all for his wife, Lauren Miller, as twisted as it sounds.
For A Good Time Call… was produced and co-written by Miller, who also stars.  She is also just about to celebrate her one year wedding anniversary with Rogen so Miller asked her husband if he would appear in her film.  Rogen recalls, "She asked me [to do it] one night when we were getting ready for bed.  And I think I just said, 'Yes.'… I was honored." Read more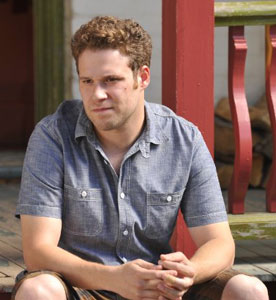 Seth Rogen can no longer be known for only playing comedic man-child parts.
The comic actor took on a dramatic role in Sarah Polley's new indie film Take This Waltz and in an interview with Yahoo! News, said, "It's probably closer to what I am in real life. I think I'm one of those people that when fans meet, they're often very disappointed because I'm kind of quiet and shy. I think they expect me to have one of those hats with two beer cans strapped to my head and strippers on either side of me. So it was nice to do something where I didn't have to be really funny all the time."
Rogen, who starred in Superbad and Pineapple Express, admits "I'm not one of those actors where filmmakers that I admire ask me to be in their movies.  I meet them at parties and they're nice to me, but they never ask me to work with them.  Sarah Polley is one of the first filmmakers that I've really liked that asked me." Read more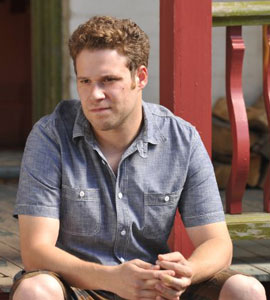 Seth Rogen has emerged leading a new generation of comedic actors, writers and producers. Rogen demonstrated his wide‐ranging ability as he co‐wrote, executive produced and starred as the main character, Britt Reid, from the comic book turned action film, The Green Hornet. Directed by Michel Gondry, Rogen stars opposite the Academy Award®‐winning actor Christoph Waltz, who plays the villain Chudnofsky. Rogen most recently completed 50/50, a film based on the real life experience of Vancouver native Will Reiser. Starring alongside Joseph Gordon‐Levitt, the film unfolds the comedic perspective of the 25‐year‐old's (Gordon‐Levitt) cancer diagnosis and subsequently, his best friend's desire for him to beat the disease.
Furthermore, Rogen starred as the voice of the title character in the comedy, Paul, teaming once again with Superbad director, Greg Mottola which was released by Universal Pictures in January 2011 and will be out on DVD in August, 2011. Written by Nick Frost and Simon Pegg, and co‐starring Jane Lynch, Kristen Wiig and Jason Bateman, Rogen voiced an alien who has escaped outside of Area 51 and his encounters with two geeks on their way to Comic Con. Read more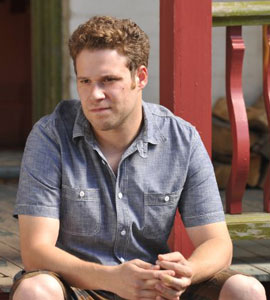 After starring in more serious comedies like Funny People and 50/50, Seth Rogen continues exploring his "dramedy" muscles in Take This Waltz.  He stars alongside Michelle Williams as husband and wife Lou and Margot in the film, which was written and directed by actress Sarah Polley. Rogen talks a bit about how he got the role and the surprising amount of research that went into it.
Rogen actually met Polley on the set of The Green Hornet, which is when he first heard about her idea for Take This Waltz.  He explains, "She came to LA and told me about the film. She was so nice and so cool. I'd actually been a big fan of hers for a long time, both as an actor and director. And then I read it and thought it was really awesome and very well written, much better written than I can write.  So I was very thrilled to do it, and yeah, I was very excited." Read more