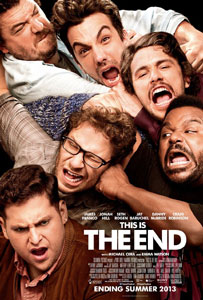 What happens when you take some of the most popular comedic actors working today and have them play heightened versions of themselves in an end-of-the-world movie?
We get a movie that's worthy of being called 'the funniest movie of the year.'
Written and Directed by Seth Rogen and Evan Goldberg, the story is about six friends (Rogen, James Franco, Jonah Hill, Jay Baruchel, Danny McBride and Craig Robinson) who end up trapped in a house at the beginning of the apocalypse. And if you think you'd want to spend the end of the world with your friends, after watching this, you might want to think again. 
This Is The End starts when Rogen picks up Baruchel at LAX. They eat, get high and chat about life. Those scenes alone made me laugh more than any movie I've seen all year.  And that was just the first 10 minutes!
The guys then head to Franco's housewarming party, Baruchel a reluctant passenger. He's not really the best of friends with the gang; he thinks they're too Hollywood. And the way they portray themselves here, they are; Franco especially. They're all hilariously Hollywood. Especially Michael Cera in an over-the-top cameos you'll ever see. Good for him to play that obnoxious and crazy!
As the party roars, the end gets near and everyone freaks the hell out. People die and it's every man (or woman in Emma Watson's case) for themselves. The guys have to band together to survive and with that, their friendships are tested… especially as they fight over a Milky Way.
It's no secret that all six actors are good friends off-camera and it shows up on-screen. I'm betting that a lot of the film is just them riffing and Rogen and Goldberg had to cut the best stuff together. Danny McBride is mad insane here and if you find him even remotely funny, you'll totally dig him here.
The film is hilarious and even though it lags a bit in the middle, it more then makes up for it in the final act. And yeah, the special effects are awful but the dialogue and situations are so damn funny that I didn't really care.