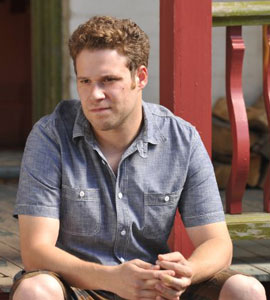 Seth Rogen has emerged leading a new generation of comedic actors, writers and producers. Rogen demonstrated his wide‐ranging ability as he co‐wrote, executive produced and starred as the main character, Britt Reid, from the comic book turned action film, The Green Hornet. Directed by Michel Gondry, Rogen stars opposite the Academy Award®‐winning actor Christoph Waltz, who plays the villain Chudnofsky. Rogen most recently completed 50/50, a film based on the real life experience of Vancouver native Will Reiser. Starring alongside Joseph Gordon‐Levitt, the film unfolds the comedic perspective of the 25‐year‐old's (Gordon‐Levitt) cancer diagnosis and subsequently, his best friend's desire for him to beat the disease.
Furthermore, Rogen starred as the voice of the title character in the comedy, Paul, teaming once again with Superbad director, Greg Mottola which was released by Universal Pictures in January 2011 and will be out on DVD in August, 2011. Written by Nick Frost and Simon Pegg, and co‐starring Jane Lynch, Kristen Wiig and Jason Bateman, Rogen voiced an alien who has escaped outside of Area 51 and his encounters with two geeks on their way to Comic Con.
Nominated for an Emmy Award in 2005 for Outstanding Writing for a Variety, Music or Comedy for Da Ali G Show, Rogen began his career doing standup comedy in Vancouver, Canada at the age of 13. After moving to Los Angeles, Rogen landed supporting roles in Judd Apatow's two critically acclaimed network television comedies, Freaks and Geeks and Undeclared, the latter for which Rogen was also hired as a staff writer at the age of 18. Shortly after, Rogen was guided by Apatow toward a film career, first with the box office smash hit, The 40‐Year‐Old Virgin, which opened No. 1 at the box office and remained at the top perch for two weekends in a row. The film went on to gross more than $175 million worldwide and helped put Rogen on the map as a future film star. The film was named one of the 10 Most Outstanding Motion Pictures of the Year by AFI and took home Best Comedy Movie at the 11th annual Critics' Choice Awards. Rogen was a co‐producer on the film as well.
Rogen headlined two summer blockbusters in 2007. First, with Knocked Up, co‐starring Katherine Heigl, Paul Rudd and Leslie Mann; the Apatow project grossed more than $140 million domestically. Distributed by Universal Pictures, Rogen was also an executive producer. Shortly thereafter, Rogen starred in Superbad (a semi‐autobiographical comedy), that he co‐wrote and executive produced with writing partner Evan Goldberg. The film grossed more than $120 million domestically for Sony Pictures. The duo also found success the following summer in the action‐comedy Pineapple Express. Starring opposite James Franco and Danny McBride, the No. 1 box‐office hit went on to make more than $100 million worldwide for Sony Pictures.
Rogen has also found great success lending his voice for animated films. He began with Kung Fu Panda as "Mantis" alongside Jack Black, Dustin Hoffman and Angelina Jolie. The Academy Award®‐nominated film earned more than $626 million worldwide. He reprised his role as the sarcastic insect in the following summer's sequel, Kung Fu Panda: The Kaboom of Doom. The following year came the 3‐D animation phenomenon, Monsters vs. Aliens. Rogen voiced "B.O.B." and was joined by Paul Rudd, Rainn Wilson and the Academy Award®‐winning actress, Reese Witherspoon. The film was released by DreamWorks Animation and has grossed nearly $370 million at the worldwide box office. Other film credits for Rogen include Horton Hears a Who!, Zack and Miri Make a Porno, Observe and Report and Funny People opposite Adam Sandler.