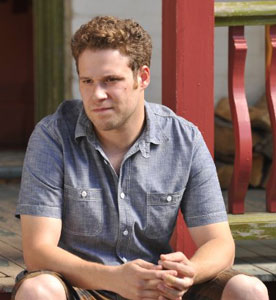 Seth Rogen can no longer be known for only playing comedic man-child parts.
The comic actor took on a dramatic role in Sarah Polley's new indie film Take This Waltz and in an interview with Yahoo! News, said, "It's probably closer to what I am in real life. I think I'm one of those people that when fans meet, they're often very disappointed because I'm kind of quiet and shy. I think they expect me to have one of those hats with two beer cans strapped to my head and strippers on either side of me. So it was nice to do something where I didn't have to be really funny all the time."
Rogen, who starred in Superbad and Pineapple Express, admits "I'm not one of those actors where filmmakers that I admire ask me to be in their movies.  I meet them at parties and they're nice to me, but they never ask me to work with them.  Sarah Polley is one of the first filmmakers that I've really liked that asked me."
Take This Waltz also stars Sarah Silverman and Academy-Award nominated Michelle Williams.  Rogen enjoyed working with Williams, who plays his wife in the film, even though he isn't used to serious roles.  "A lot of our scenes were emotionally demanding," he said.  "The emotional turmoil that actors put themselves through at the drop of a hat is not the type of stuff I normally do."
But the success isn't going to his head.  When asked if he feels on top of the world, Rogen responded, "As a Jewish person, you generally hate yourself, but there's moments where I feel that way."
Take This Waltz is in limited release in theaters now.