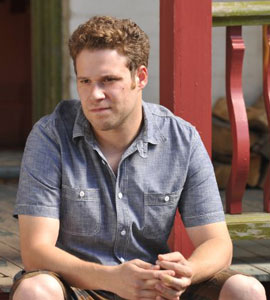 After starring in more serious comedies like Funny People and 50/50, Seth Rogen continues exploring his "dramedy" muscles in Take This Waltz.  He stars alongside Michelle Williams as husband and wife Lou and Margot in the film, which was written and directed by actress Sarah Polley. Rogen talks a bit about how he got the role and the surprising amount of research that went into it.
Rogen actually met Polley on the set of The Green Hornet, which is when he first heard about her idea for Take This Waltz.  He explains, "She came to LA and told me about the film. She was so nice and so cool. I'd actually been a big fan of hers for a long time, both as an actor and director. And then I read it and thought it was really awesome and very well written, much better written than I can write.  So I was very thrilled to do it, and yeah, I was very excited."
Rogen was intrigued by his character's rather detached reaction to his wife's infidelity.  He says, "Take This Waltz is a movie about a guy who writes a chicken cookbook and then finds out his wife is cheating on him. It's kind of funny that my character is just not that emotionally involved… He's just making his chicken and everything is fantastic."  In fact, Rogen sees his character's focus on his chicken cookbook as an apt metaphor, saying, "Slightly symbolic for a guy who's aspiring to do something, but not something that's incredibly exciting or daring. Chicken is the middle ground of meat. It's a good metaphor for the relationship. It's good, but it's not the most exciting thing in the world."
But all that chicken-cooking required a surprisingly extensive amount of research.  Rogen reveals, "I can confidently say I did more research for this movie than any movie I've ever done, except maybe Pineapple Express. You learn little things from movies, like how to ride a motorcycle or shoot an AK‐47. But for Waltz, I spent a lot of time learning how to cut up chickens. I had chefs coming to my house in LA and they'd leave me dozens of chickens. I'd cut them up and cook them in different ways, but I would mostly just cut them up. I'd also watch a lot of cooking shows, like Top Chef, and steal the way they do stuff."  He admits to even having dreams about chickens, including one in which he mistakes his dog for a chicken, adding, "That was weird."  Still, he confesses that some of his performance comes from his personal life.  He says, "I did draw on my Dad a little for this role, honestly.  My Dad does a thing where he talks with his eyes closed, so I did that a few times."
Despite his jokes, Rogen realizes that Take This Waltz involves a different type of comedy than the raunchy drug humor he is mostly known for, and feels honored that Polley thought of him for the role.  He points out, "With comedy, for me, you develop a pretty good gauge of whether it is funny or not. The kind of comedy that we generally have done is naturalistic, conversational, which means it's not like completely based on call‐and‐response. But I also thought that when you find out what's happening to Lou and to Margot, it's very impactful and there are a lot of really interesting moments that I'd never really seen in a movie before. More than anything, Sarah really seemed to think I was going to help her movie a lot and that to me was the most important thing."
Take This Waltz will have a limited release on June 29, but it is currently available on Video-On-Demand.