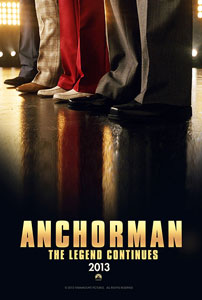 Here's a new teaser trailer for Anchorman 2: The Legend Continues!
Starring Will Ferrell, David Koechner, Paul Rudd and Steve Carell, it's pretty much the same as the first teaser trailer but who cares, right? It's still funny and it's just making me wish it were already December.
In theaters on December 20th! Read more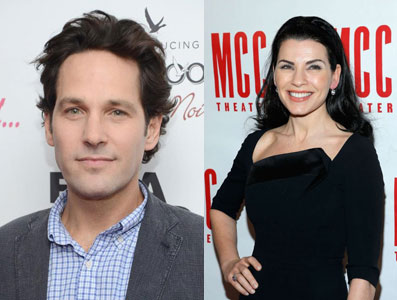 Paul Rudd and Julianna Margulies will perform in a one-night only benefit reading of Neil LaBute's play, The Mercy Seat, for MCC Theatre.
The reading takes place on June 17th at 7:30 p.m. at the Lucille Lortel Theatre (121 Christopher Street, NYC).  The event is part of MCC's celebration of a decade of collaboration and new work with Playwright-in-Residence Neil LaBute. Proceeds will benefit MCC Theater's literary development programs, including the Playwrights' Coalition and free PlayLab reading series.
Margulies ("The Good Wife," "ER"), an MCC Theater board member, last appeared on MCC's stage in the 2002 production of Intrigue with Faye. Rudd ("This Is 40," "Knocked Up") appeared on Broadway this season in Craig Wright's Grace and will next star in the upcoming films Prince Avalanche and Anchorman 2.  Read more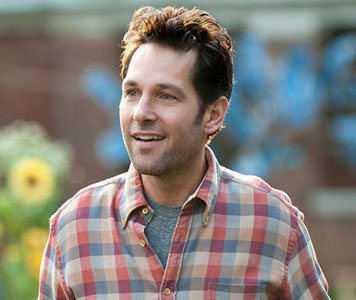 Paul Rudd most recently starred in Judd Apatow's This is 40, opposite Leslie Mann in a reprise of the roles they played for the filmmaker in the smash Knocked Up. He will soon be seen in David Wain's They Came Together, opposite Amy Poehler, and Adam McKay's Anchorman: The Legend Continues, again starring alongside Will Ferrell, Steve Carell, Christina Applegate, and David Koechner.
Mr. Rudd's many other films include Amy Heckerling's Clueless; Baz Luhrmann's Romeo + Juliet; Nicholas Hytner's The Object of My Affection; Lasse Hallström's The Cider House Rules; Jesse Peretz's The Château and Our Idiot Brother; Neil LaBute's The Shape of Things; Adam McKay's Anchorman: The Legend of Ron Burgundy; Judd Apatow's The 40-Year- Old Virgin; Katherine Dieckmann's Diggers; Robert Ben Garant's Reno 911!: Miami; Nicholas Stoller's Forgetting Sarah Marshall; John Hamburg's I Love You, Man; Jay Roach's Dinner for Schmucks; James L. Brooks' How Do You Know; Stephen Chbosky's The Perks of Being a Wallflower; and David Wain's Wet Hot American Summer, Role Models (which he co-wrote), Wanderlust and The Ten (both of which he produced).
He studied theater at the University of Kansas and the American Academy of Dramatic Arts. He made his West End stage debut in the London production of Eugene O'Neill's Long Day's Journey Into Night, starring opposite Jessica Lange and directed by Robin Phillips; and performed at the Westport Country Playhouse in A.R. Gurney's Ancestral Voices, with Paul Newman and Joanne Woodward. Read more
Phenomenal actor Michael Shannon will be appearing in his first sure-to-be blockbuster this year as the villainous General Zod in the newest Superman film, Man of Steel.  But fans of acting have already known of Shannon from his roles in films like Take Shelter and in his role on HBO's Boardwalk Empire.  But Shannon is also an accomplished theater actor, and recent starred on Broadway opposite Paul Rudd in Grace (check out my review here!)  In fact, during the production Rudd interviewed Shannon for Interview magazine about what drew Shannon to acting.
Rudd asks Shannon how he feels about performing a play twice in one day.  He says,"It's a little bit odd. The first time you do the play, you kind of throw yourself into it, trying to get the most out of all the individual moments. Then, a few hours later, you're still there, wondering what you could possibly do differently than what you just did a couple hours ago. Sometimes I try to pitch my voice just a little bit higher as a way to deviate between the two performances. Or I'll try a slightly different accent."  Later he adds, "Sometimes it's just fun to change. That's one of the great things about acting—you get to pretend you're somebody else, which is great if you get bored with yourself." Read more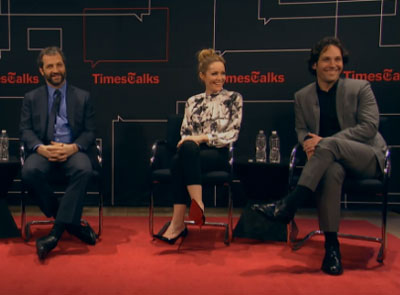 Over the holiday, I re-watched This is 40 and even with all of its flaws, I remembered how much I really liked it. Judd Apatow's films are always populated with characters that I would love to hang out with in real (and reel) life and this new film definitely falls into that category.
In this Times Talks, a series of chats that the New York Times puts together, Apatow and stars Paul Rudd and Leslie Mann are interviewed by David Carr for a good hour and a half. They go deep into the process of making the movie, rehearsals, their careers and more.
Check it out below!  Read more
Though Paul Rudd is likely gearing up for the release of This is Forty, his latest film with frequent collaborator writer/director Judd Apatow, audiences can see him on stage in New York in Grace.  Rudd plays a born-again businessman who moves to Florida in order to start a chain of gospel-themed hotels.  I thought he was wonderful in the play (you can check out my review here), although the play has driven at least one person to vomiting (although, to be fair, that probably had little to do with the play itself). 
In an interview with The New York Times, Rudd talks about his character and why he continues to appear on stage despite being a comedy movie star.
Since his character in the play is deeply religious but, as a consequence, also very pushy about his beliefs, the character has been described as unlikable — a description that Rudd doesn't necessarily agree with.  He explains, "I've never quite understood the whole thing about 'likable' and 'unlikable.'  I know that sometimes when you read a script or studios are deciding about things, it's like, 'This character is unlikable,' or 'He's unlikable; you've got to make him likable.' I don't quite get what that means. Everybody has moments of likability and unlikablity. I'm more interested in relatability." Read more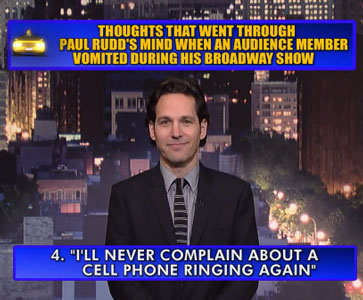 Imagine you're on stage, acting your butt off when some guy in the balcony leans over and blows chunks into the orchestra section below. As we wrote yesterday, that's exactly what happened to Paul Rudd last week during a performance of Grace.
On last night's Late Show with David Letterman, Rudd came on to present his 'Top Ten Thoughts' that went through his mind when it happened. My favorite is in the screen shot on the right – "I'll never complain about a cell phone ringing again."
I'm planning to see this show in a couple weeks when I'm in NYC and I really hope I get the non-vomiting seats.
Check it out below! Read more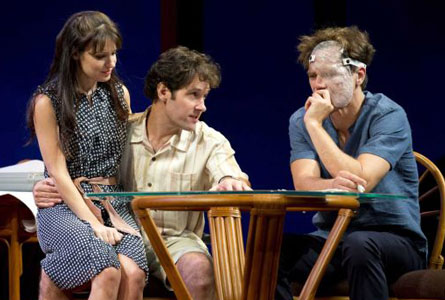 Perhaps Gallagher was on to something with that whole "hand ponchos out to the audience" thing for his comedy shows.
During the November 14 performance of Grace, the Broadway play starring Paul Rudd, Michael Shannon, Kate Arrington, and Ed Asner (which I reviewed here!), a person in the first row of the balcony who was "reportedly drunk and appeared to be elderly" threw up over the edge of the balcony onto audience members in the orchestra below.  The male audience member responsible then collapsed, though Gothamist says the man eventually returned to his seat (and also suggests that he wasn't drunk.  Hmm…) Read more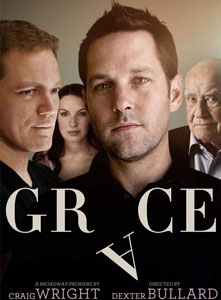 Two woman walked by me on their way out of the theater after seeing Grace starring Paul Rudd and Michael Shannon at the Cort Theatre.  One of the women turned to the other and said, "I thought it was supposed to be a comedy."  She then added "But I'm glad it wasn't." 
Indeed, though there are moments of great humor in Grace, which was written by Craig Wright (who has also written episodes of TV's Six Feet Under and Lost), this forceful drama is about the influence of God (or lack thereof) on the paths of our lives.
Grace takes place in two identical condos next door to each other in Florida and opens with its ending, in which two of the main characters are murdered and a third, the shooter, commits suicide.  This scene is "rewound" and played both forwards and backwards by the cast, a technique that is used later in the play during another key scene.  After this grisly opening the story goes back several weeks to establish the characters we have just seen brutally gunned down.   Read more
Paul Rudd was ready to leave the comedy roles behind him for a part in Broadway's Grace, alongside Michael Shannon and Ed Asner.
"I loved the idea of working with Michael," Rudd said in an interview with USA Today.  "I hadn't felt a burning desire to do another play, just for the sake of doing one.  But I thought this was really interesting.  And the character is different from the kind I've usually played."
However, the theater world offers different challenges from working in Hollywood.  The play itself presented some obstacles.  "There are sections where things move backwards in time," he said.  "And the language is different—very specific and contemporary, with speeches that are like giant run-on sentences.  I usually memorize lines pretty quickly, but these were hard to learn." Read more