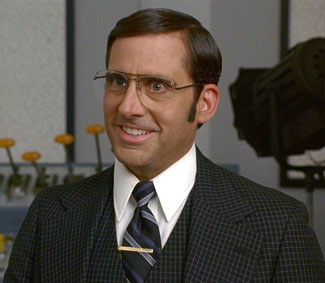 Although I'm a bit wary that the marketing overkill for Anchorman 2 that has gone from viral to outbreak, I still can't wait to see the sequel.  One of the main reasons why is because I absolutely loved the chemistry between the Channel Four news team in the first film: Will Ferrell, Paul Rudd, David Koechner, and, of course, Steve Carell as Brick Tamland, the low IQ weatherman of the news team.  Carell spoke about reuniting for the sequel with The Guardian and explained why the original is so dear to him and why he looks up to comedians like Ferrell and Peter Sellers.
Carell admits that he more-or-less owes his entire career to Anchorman because it served as a breakthrough role for him. He explains, "Adam [McKay, the director] and Will are probably more responsible for my subsequent career than anybody, because they gave me a shot. I wasn't well known – none of us were except Paul– but they took a chance and from there I met Judd Apatow, one of the producers, and we wrote The 40-Year-Old Virgin together. That led to other things, so it was an incredibly important time in my career."
When it's pointed out that his mentally challenged character did some pretty outrageous things in the first film, Carell responds, "I don't think you draw many lines in comedy. Look at people like Will, who will always go out on a limb comedically and take all sorts of chances. In this movie there was one day where they were scooping jellyfish out of the way with a shovel so he could swim in the ocean. He'll try anything: he doesn't put any constraints on how he approaches comedy."
In fact, Carell admits that one of his comedic heroes is Peter Sellers, who likewise had no fear when it came to comedy.  He points out, "He never indicated that he thought what he was doing was funny; he never winked at the camera. He was always completely committed to the characters he played. What I learned from watching him was that characters in comedies don't know they are in a comedy. They are just in life. He was a perfect personification of that."
Carell is definitely right about one thing: Ron Burgundy definitely fits that definition of someone who doesn't know that he is in a comedy.