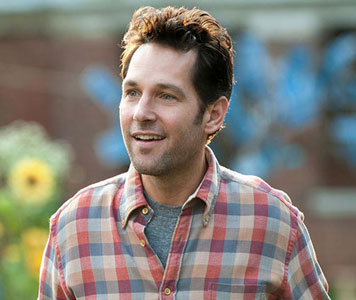 Paul Rudd most recently starred in Judd Apatow's This is 40, opposite Leslie Mann in a reprise of the roles they played for the filmmaker in the smash Knocked Up. He will soon be seen in David Wain's They Came Together, opposite Amy Poehler, and Adam McKay's Anchorman: The Legend Continues, again starring alongside Will Ferrell, Steve Carell, Christina Applegate, and David Koechner.
Mr. Rudd's many other films include Amy Heckerling's Clueless; Baz Luhrmann's Romeo + Juliet; Nicholas Hytner's The Object of My Affection; Lasse Hallström's The Cider House Rules; Jesse Peretz's The Château and Our Idiot Brother; Neil LaBute's The Shape of Things; Adam McKay's Anchorman: The Legend of Ron Burgundy; Judd Apatow's The 40-Year- Old Virgin; Katherine Dieckmann's Diggers; Robert Ben Garant's Reno 911!: Miami; Nicholas Stoller's Forgetting Sarah Marshall; John Hamburg's I Love You, Man; Jay Roach's Dinner for Schmucks; James L. Brooks' How Do You Know; Stephen Chbosky's The Perks of Being a Wallflower; and David Wain's Wet Hot American Summer, Role Models (which he co-wrote), Wanderlust and The Ten (both of which he produced).
He studied theater at the University of Kansas and the American Academy of Dramatic Arts. He made his West End stage debut in the London production of Eugene O'Neill's Long Day's Journey Into Night, starring opposite Jessica Lange and directed by Robin Phillips; and performed at the Westport Country Playhouse in A.R. Gurney's Ancestral Voices, with Paul Newman and Joanne Woodward.
Mr. Rudd's Broadway credits include William Shakespeare's Twelfth Night, directed by Nicholas Hytner at Lincoln Center; Alfred Uhry's The Last Night of Ballyhoo, directed by Ron Lagomarsino, which won the Tony Award for Best Play; Richard Greenberg's Three Days of Rain, alongside Julia Roberts and Bradley Cooper, directed by Joe Mantello; and, most recently, Craig Wright's Grace, with Kate Arrington, Edward Asner, and Michael Shannon, directed by Dexter Bullard.
He starred for Neil LaBute in the premiere runs of The Shape of Things at London's Almeida Theatre Company and at Manhattan's Promenade Theater; the latter brought Mr. Rudd a Drama League Award nomination. He also starred in the New York and Los Angeles productions, staged by Joe Mantello, of Mr. LaBute's bash, latterday plays. 17 For television, Mr. Rudd was co-writer and co-creator of the critically acclaimed series Party Down; and played a recurring role on the classic series Friends, opposite Lisa Kudrow.
Filmography/Biography courtesy of Focus Features