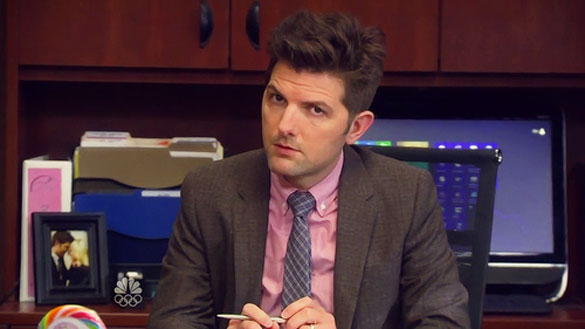 Adam Scott has enjoyed his time on NBC's sitcom Parks and Recreation, but this season he is taking it to the next level by directing one of the episodes. The 40-year-old actor talked to Vulture about going behind the camera when his character, Ben Wyatt, had a lot to do on-camera.
He talked about how the directing opportunity came up with the show.
"Over the summer, I asked if they weren't all booked up with directors, if I could direct one. Again, I didn't want it to be a thing where they felt like they had to. I just really wanted to and I thought it would be really fun. They were nice enough to let me," said Scott. "Usually, when actors direct an episode, you try and get one that you're not in a ton, but the way it worked out, I'm in this one a ton."
The episode he directed also had his character fighting with his wife Leslie Knope, played by Amy Poehler, quite a bit. He shared what it was like being in charge of his peers for that show.
"It's not that difficult. We're all pitching jokes for each other all the time, so we're very comfortable. I do remember the first times Amy Poehler and Nick Offerman directed episodes, I thought, 'Oh no. Are they gonna direct me? Are they gonna say something to me, and then I'll immediately think, Have you been waiting to say this to me for three years? Like, finally they're going to tell me to start being better?' But it wasn't like that at all," said the comedian. "I actually love it when one of the other actors directs. What I really liked about getting to do it was going out, looking for locations … all the stuff they do ahead of time. You realize there's a huge amount of work that goes into this show before the spoiled actors arrive on set."
In addition to his series regular role on Parks and Rec, the TV star continues to collaborate with fellow comedic actors for his Greatest Event in Television History on Adult Swim. The videos remake the opening credits to classic television shows. Be sure to check out his latest with Paul Rudd and the opening credits to Bosom Buddies.