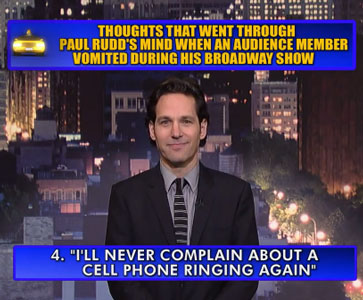 Imagine you're on stage, acting your butt off when some guy in the balcony leans over and blows chunks into the orchestra section below. As we wrote yesterday, that's exactly what happened to Paul Rudd last week during a performance of Grace.
On last night's Late Show with David Letterman, Rudd came on to present his 'Top Ten Thoughts' that went through his mind when it happened. My favorite is in the screen shot on the right – "I'll never complain about a cell phone ringing again."
I'm planning to see this show in a couple weeks when I'm in NYC and I really hope I get the non-vomiting seats.
Check it out below!